Hot Air Balloon Safari Pilanesberg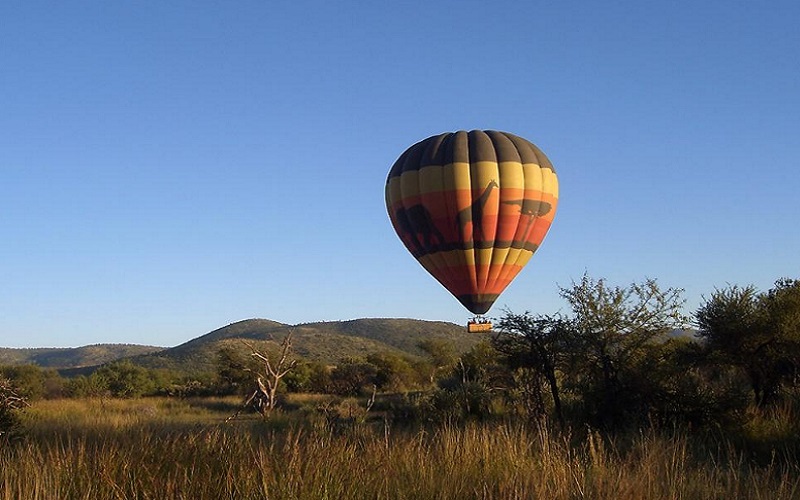 No. of Days:

1

Guest Reviews:

The thrill and excitement of a breathtaking Hot Air Balloon Safari over the scenic Pilanesberg National Park in South Africa's North West Province is an unforgettable experience.
Overview
Hot Air Balloon Safari in the Pilanesberg National Park (North West Province, South Africa)
Visitors may enjoy the thrill of an exciting Hot Air Balloon Safari over the beautiful 'Big Five' Pilanesberg National Park and admire South Africa's beautiful scenery and untamed wildlife from above.
These Hot Air Balloon Safaris are offered every morning, depending on the weather and number of passengers. Guests are picked up from their hotel and taken to the national park to rendezvous with the balloon crew.
The flight itself takes about one hour and on landing sparkling wine is served.
A leisurely game drive is then taken through the park to a game lodge where breakfast is served, after which guests are returned to their hotel.
Flights are early in the morning, guests need to allow some 4 hours for the full activity which includes the following:
Early morning collection from your hotel by safari vehicle.
The launch of the balloon from the centre of the park.
An hour was drifting serenely over the park.
A sparkling wine celebration on landing, a time-honoured tradition in ballooning.
A Full English breakfast at a Private Game Lodge.
A First Flight certificate signed by your Pilot.
Return transfer to your hotel.
Duration: 1hr flight, +/- 4 hrs in total
PLEASE NOTE: Booking is essential and a minimum number of 8 guests are required to conduct a flight.
Reviews