Bushmans Kloof in the Cederberg
South African Lodges » South Africa Lodges » Western Cape Lodges » Breede Valley Lodges » Clanwilliam Lodges » Bushmans Kloof Wellness Retreat
Bushmans Kloof Wellness Retreat
Location: Clanwilliam, Breede Valley, Western Cape, South Africa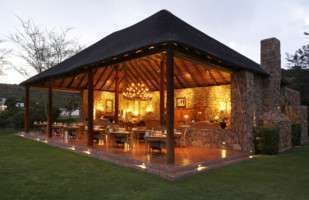 Star Rating:
Lodge Type: Spa, Family, Conference, Leisure
No. of Rooms: 17
Guest Reviews:7 Reviews
Address
Bushmans Kloof Wilderness Reserve
Cederberg Mountains
Clanwilliam 8135
Western Cape
South Africa
Overview
The scenic Bushmans Kloof Wilderness Reserve & Wellness Retreat lies at the foothills of the beautiful Cederberg mountains in the Western Cape of South Africa. This five star retreat is only 270 km away from Cape Town itself. Bushmans Kloof offers the ideal wilderness getaway to restore, escape and relax for business and leisure travellers alike.
Guests staying at the Bushmans Kloof retreat have the unique opportunity to discover the magnificent nature with a wide range of outdoor activities or just relax and get pampered at the health and beauty spa or swim in rock pools and near waterfalls. The Bushmans Kloof reserve has been declared a South African Natural Heritage site and is a member of the prestigious Relais & Chateaux hotels.
Accommodation at Bushmans Kloof, Western Cape / South Africa
Bushmans Kloof accommodates a maximum of 32 guests, all suites and guest rooms are elegantly appointed and furnished to create a feeling of comfort and peace. The hotel rooms are either in cottages set among landscaped gardens and pools, or form part of the original Manor House (circa 1843), where the suites were named after early Scottish pioneers and explorers.
Bushmans Kloof accommodation features
7 Luxury Rooms with private patio, en-suite bathroom and shower
7 Deluxe Rooms with large private patio, bathroom and shower en-suite, heated towel rails, lounge area within bedroom, some with fireplaces
1 Suite (Paterson Suite) with large private patio, en-suite designer bath and shower, heated towel rails and separate lounge area with fireplace
1 Supreme Suite (Riverside Supreme Suite) with a lounge area and fireplace, flatscreen satellite televisions in lounge and bedroom, infinity swimming pool, spacious patio, en-suite bathroom with designer bath and shower; heated towel rails and outdoor shower
1 Intimate Villa (Koro Lodge) with two master bedrooms with en-suite bathroom (one with outdoor shower), loft area accommodates 4 children, independent family living area with bathroom en-suite (cann also sleep 2 persons), kitchen, bar and living room area with dining area and fireplace, mini library, amenities and equipment available for babies and small children, wrap around terraces withh small private infinity pool and outdoor barbeque area
Hotel room features and amenities:
luxury bed linen
custom designed soft furnishings
soothing and pampering private-label toiletries
bathrobes
air conditioning
underfloor heating
ceiling fans
in-room safe
well stocked mini-bar
tea & coffee facilities
direct-dial telephone
discreet housekeeping three times daily
complimentary wireless internet access available throughout the main lodge.
Dining at Bushmans Kloof, Cederberg Mountains
Bushmans Kloof is well known for its delicious country cuisine. Organically grown farm produce as well as fresh ingredients from the hotel's own vegetable, fruit and herb gardens are used for the seasonal dishes. Guests are invited to visit the wine cellar to select their wine from an award winning wine list which features top South African wines.
Guests at Bushmans Kloof may enjoy the following wonderful dining experiences:
The Homestead: a selection of specialities offered each evening from the executive chef's table d'hôte menu
Makana: a sheltered open-air restaurant with a glorious outlook across sweeping lawns to the river
Embers: a magical dining experience under the stars
Manor House Deck: alfresco dining under ancient wild fig trees
Kadoro: a charming and secluded special venue in the reserve
In-Room Dining: for dining in privacy
Picnics: are organised on request
Conferencing at the Bushmans Kloof Wilderness Reserve & Wellness Retreat
Bushmans Kloof can accommodate up to 32 guests whereby menues can be planned to suit the group's rquirements.
Conference facilities:
One meeting room with state of the art conference equipment, conference note pads, pens, water, sweets and cordials
Equipment: screen, flip chart and pens, overhead projector, 35mm carousel projector, data projector, speakers and amplifier with DVD/VCR player
Variety of locations can be used for break-away sessions around the lodge
Seating plans.
Activities & Facilities at Bushmans Kloof
During their stay at the Bushmans Kloof Wilderness Reserve & Wellness Retreat, guests enjoy a wide variety of different activities and facilities.
Activities and facilities:
Guided rock art excursions
Botanical tours
Game viewing and sunset game drives in open game viewing vehicles
Birdwatching
Nature trails for mountain hikes and river walks
Canoeing and swimming in crystal clear natural rock
Pools
Abseiling
Fly-fishing
Health & Beauty Spa
Two lounges with fireplaces
Library and billiard room
Wine cellar
Trading Post Gift Shop.
Health & Beauty Spa at Bushmans Kloof
The exquisite health and beauty spa at Bushmans Kloof offers a sanctuary for the stressed and world-weary traveller. In its beautiful setting, peaceful and tranquil, the wellness centre at Bushmans Kloof is conducive to "healing through water" and embraces the quest for wellness, in harmony with nature, mind, body and spirit.
Aromatherapy, Manual Lymphatic Massage, Reflexology and Full Body Massage may be enjoyed on the private veranda, in the tranquil setting of an ancient ravine, or in a cool rocky shelter that was home to the San Bushmen thousands of years ago.
Please NOTE at Bushmans Kloof, Cederberg Mountains in South Africa
no mobile phone reception is available but WiFi throughout the lodge and landlines in all rooms and suites
no pets are allowed
the main gate closes at 17h00
Bushmans Kloof is located within a rocky wilderness area, therefore more suited fo fully mobile guests.
Restaurants
The Homestead Restaurant at the Bushmans Kloof Retreat is located next to the terrace with a heated swimming pool. The formal dining room is warm and elegantly furnished and offers each evening a selection of specialties. Guests may enjoy cocktails in the bar and drinks by the fireplace.
Example of the popular Chef's Table Menu (subject to change):
Demitasse of Guineafowl Consommé
With poached quails egg
Simonsig Kaapse Vonkel 2005
***
Caprese Salad
Marinated buffalo mozzarella, tomato confit and sorbet, balsamic and basil
Bouchard Finlayson Sauvignon Blanc 2006
***
Duo of Roasted Monkfish and Herb-Crusted Scallops
Wrapped in bacon and served with Champagne tapioca and fennel foam
Tierhoek Chenin Blanc 2005
***
Panee'd Fillet of Venison
Served with celeriac and beetroot pureé, asparagus, sweet and sour black cherry and chocolate sauce
Cederberg Shiraz 2004

or

Medallions of Free-Range Chicken Breast
Sauce with slow-roasted oxtail of the bone and served with truffled potato pureé and baby broccoli
Bouchard Finlayson 'Galpin Peak" Pinot Noir 1999
***
Rooibos Jelly
With white chocolate mousse and lemon foam
***
Honey, Vanilla Pod and Ricotta Cheesecake
Served with port-glazed plums, pand'epice and mint syrup
Klein Constantia Vin De Constance 2001
Address: Bushmans Kloof Wilderness Reserve, Clanwilliam 8135, Western Cape, South Africa
The Embers at Bushmans Kloof is built into a natural ancient sandstone amphitheater of giant boulders which overlooks dramatic cliffs and valleys. Guests may enjoy a unique outdoor dining experience by the fire with candles and lanterns. Embers serves a traditional South African Brai under the starlit sky.
Example of a Typical South African Braai:
A South African braai is characterized by an abundance of red meat, cooked on an open fire so that the taste is magnified and coated with the delicious flavour of open coals. Most often the traditional Afrikaner boerewors (farmers sausage), a deliciously moist, spicy, fatty sausage and also 'chops' otherwise known as lamb and beef cutlets and thick beef and lamb steaks, are used.
The influence from the Cape's Malay heritage is the sosatie which is a mouth-wateringly spicy kebab of skewered meat pieces interspersed with onion and red peppers delicately eaten off a wooden stick.
The meat is savoured together with a home-brewed tomato bredie which is a delicious authentic stew made primarily of tomatoes and onions stir-fried over an open fire. Then pap which is a porridge cooked until it is paste-like and firm is added to the plate, over which the delicious bredie is spooned, creating a truly authentic South African food experience.
Address: Bushmans Kloof Wilderness Reserve, Clanwilliam 8135, Western Cape, South Africa
Makana at Bushmans Kloof serves delicious traditional high tea, scrumptious brunches with hot cooked breakfast, quiches, pastries and other mouthwatering delicacies. Makana features stone walls enclosing an elegant lounge with twin fireplaces overlooking the Boontjies river.
Address: Bushmans Kloof Wilderness Reserve, Clanwilliam 8135, Western Cape, South Africa
Kadoro at the Bushmans Kloof Wilderness Reserve in the Western Cape of South Africa is a renovated Shepherd's Cottage with no electricity offering the magnificent starlit wilderness outside. Guests may experience a barbeque in summer by lantern and candelight or in winter wholesome soups, curries and stews. Bushmans Kloof's Kadoro is the ideal place for a romantic dinner with your loved one.
Address: Bushmans Kloof Wilderness Reserve, Clanwilliam 8135, Western Cape, South Africa
Depending on the weather, guests staying at the Bushmans Kloof Wilderness Reserve & Wellness Retreat may enjoy alfresco brunch or tea under colossal wild fig trees at the magnificent Manor House Deck.
Address: Bushmans Kloof Wilderness Reserve, Clanwilliam 8135, Western Cape, South Africa
Spa
Spa facilities at the Bushmans Kloof Wellness Retreat:
4 treatment rooms for dual and single treatments with rain shower
Crystal steam room, featuring Rock Quartz Crystal renowned for its healing properties
Tranquility Lounge for relaxing in between and after all spa treatments
Health Bar with homemade treats and fresh hand-picked Rooibos Tea
Fitness Centre with a full range of cardio and resistance equipment
Spa Gazebo by the Boontjies River is an extraordinary spa experience for dual treatments
heated outdoor jet pool
Elemis and Dermalogica products
Fitness facilities at Bushmans Kloof:
weight training equipment
bosu balls
yoga mats
exercise bicycle
rowing machine
treadmill
Activities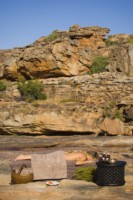 The Spa at Bushmans Kloof, South Africa
The surroundings are therapy in themselves, but the Spa at Bushmans Kloof is the focus of the abundant natural healing energy. The wellness center here is a peaceful sanctuary where one can surrender to the ancient mystical powers of the African landscape, rejuvenate and replenish peace and harmony.
Individual treatments and spa journeys are available which are personalised for each guest by exceptionally skilled therapists. Their commitment to wellbeing focuses on holistic principles, combining ancient wisdom with modern expertise.

The spa menu offers an extensive variety of health and beauty enhancing treatments to ensure guests are nurtured, purified, pampered and relaxed.
Hydrotherapy

The recuperative and healing properties of hydrotherapy are instrumental in stimulating the immune system. It influences the production of stress hormones, invigorating the circulation and digestion, encouraging blood flow and lessening pain sensitivity. The Bushmans Kloof retreat in South Africa offers various sources with which to enjoy the pleasure and benefits of the Cederberg's invigoratingly clean, natural water.
Swim in the still waters of the dam, the crystal clear rock pools, or in natural waterfalls, and rejuvenate your body by the millions of ions in the water. Water, in motion stimulates touch receptors on the skin, boosting blood circulation and releasing tight muscles.
Guests are invited to unwind at one of the four tranquil swimming pools or have a body wrap and mud rasul treatment in the Crystal Steam Room, with a hot steam and cold water experience, which helps increase circulation and bring oxygen and nutrients in, while forcing toxins and pathogens out.

Crystal Steam Room

The Crystal Steam Room features a central block of pure Rock Quartz Crystal, renowned as a 'master healer' and 'deep soul cleaner'. It absorbs, stores, releases and regulates energy and draws off negative energy of all kinds, harmonising the chakras, amplifying energy, balance and revitalising physical, mental, emotional and spiritual planes. It helps cleanse and enhance the organs, connecting the physical dimension with the mind, aids concentration and unlocks memory.

Bushmans Kloof Spa facilities:
4 Treatment Rooms for dual and single treatments
The Crystal Steam Room with Rock Quartz Crystal is maintained at a temperature of 42 – 45 ºC with moist aromatic heat, heated floors, walls and seats
The Tranquillity Lounge to relax in between and after all spa treatments with lounge chairs, music, books or to meditate
Health Bar with homemade healthy snacks and fresh hand-picked Rooibos tea to enjoy between treatments
The Riverside Gazebo is a unique dual treatment room with exceptional panoramic views and tranquil waters. An outdoor spa experience where you can be truly at one with the natural environment
Rain Showers, private changing areas, secure lockers, fresh towels, slippers and gowns
Fitness Centre with a full range of cardio and resistance equipment
Heated Outdoor Jet Pool surrounded by spectacular views
Wellbeing Activities include audio meditation in the reserve and yoga mats in all rooms, mountain biking, canoeing, hiking and walking trails in the reserve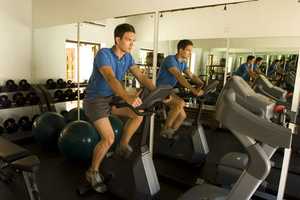 For guests who enjoy a daily workout, or simply wish to work up an appetite for the next delicious meal at Bushmans Kloof, there is a specialised mini-gym equipped available with a spinning cycle, bar and weights, yoga mats, Pilates balls, mirrors, bottled water and towels.S
Located in one wing of the Homestead, Bushmans Kloof's Fitness Centre looks onto the jet-pool patio and is next door to the dual massage room.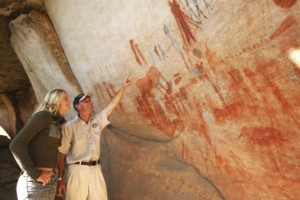 Bushmans Kloof guests have the opportunity to enjoy daily excursions to discover the caves and rock art sites accompanied by professional guides who provide insight into the rich cultural history of the Bushman. Bushman are the diminutive ochre-skinned hunter-gatherers who were dubbed 'Bushmen' by the early Settlers.
Bleeding Nose Shelter
One of the most important Bushman Rock Art sites is Bleeding Nose Shelter, where the paintings stand out richly against the white Sandstone. This was probably a ceremonial site, and subjects include eland, small antelope, rare paintings of birds and a whole variety of humans standing, dancing and shooting with bows.
Fallen Rock Shelter
The massive slab that gives Fallen Rock Shelter its name is dramatic, it features one of the largest and most well-preserved collections of images known in the entire Pakhuis region.
Sonya's Cave
Sonya's Cave shelters a series of ledges which are filled with tall, elongated, male figures painted red. In close proximity, figures in black depict giraffes and antelope can be viewed. The Bushman used natural pigments such as ochre, animal blood and plant juices to make their paintings. While some colours have been lost over time, numerous clearly discernible pictographs have survived to serve as cultural markers, revealing the shamans' visions, tribal dances, and other spiritual rites.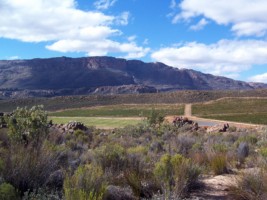 Wupperthal village & historic Moravian mission station
Cederberg Wilderness Area
Biedouw River canoeing & fly-fishing
Lambert's Bay - fishing village and seabird colonies
Clanwilliam Museum - Anglo-Boer war memorabilia
Goue Vallei wine cellars, Citrusdal
Cederberg Private Cellars - the Cape's highest lying vineyards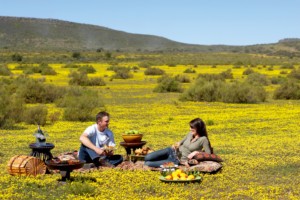 guided rock art excursions
sunset and evening nature drives
fynbos excursions
picnics at a variety of locations throughout the Bushmans Kloof Reserve
canoeing
fly fishing
archery and croquet
full and half day hiking trails
running and jogging
mountain biking
stargazing
bird watching
early morning power walks and guided meditation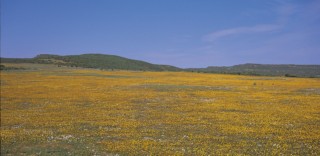 The Bushmans Kloof Wilderness Reserve is a South African Natural Heritage Site within the Cederberg Wilderness Area, and forms part of the Cape Floral Region, a proclaimed World Heritage Site.
Depending on the occurrence of good winter rainfalls, the veld bursts into wonderful flower between July and October every year. The botanical treasures of Bushmans Kloof include over 755 indigenous plant species spread over three biomes: dry mountain Fynbos, succulent Karoo and mountain forest. Some of these species cannot be found anywhere else, and Bushmans Kloof has identified its own "Special Collection" – plant species unique to the area and which are being nurtured on the property.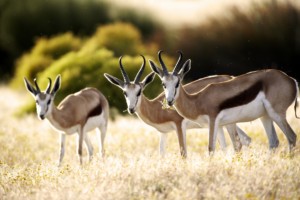 The Bushmans Kloof Wilderness Reserve in the Western Cape of South Africa protects one of the largest private herds of Cape Mountain Zebra in the world - an animal saved from the brink of extinction in the wild.
The Cape Mountain Zebra is identified by its bold black-on-white stripes - as opposed to its savanna-dwelling cousin (Burchell's Zebra), which has extra brown 'shadow' stripes, and a cream undercoat.
The wildlife reintroduction programme has also seen the return of the magnificent Bontebok, Red Hartebeest, Grey Rhebok and Ostrich.
Smaller animals such as the Bat-Eared Fox, African Wildcat, Cape Fox, Caracal (African Lynx), Cape Clawless Otter, Baboon, Rock hyrax (Dassie), Klipspringer, Aardwolf and Aardvark also roam the plains and rocky outcrop of the Bushmans Kloof reserve.
For the safety of both guests and the breeding herds of reintroduced animals, there are no great predators at Bushmans Kloof. Only the rare and secretive Cape Leopard roams among the most remote mountains in the reserve.
A huge diversity of birdlife is thriving once more, with 150 species from the great African Fish eagle to the jewel-like Sunbird. Keen birders may even spot a Black harrier, and a number of dams have been established around the Lodge to attract resident waterfowl.
And in the reserve, the endangered Clanwilliam Yellow Fish was reintroduced and now swims once more in the rivers and dams.
Conferences / Events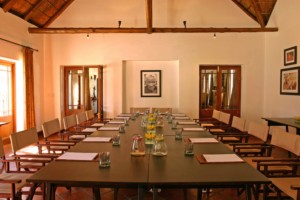 The Conference Room at the exclusive Bushmans Kloof Wilderness Reserve & Wellness Retreat in South Africa accommodates up to 32 people and includes flip charts, conference note pads, pens, water, cordials and sweets.

Conference Facilities at Bushmans Kloof:
air conditioning
screen
overhead projector
35 mm carousel projector
data projector
speakers
DVD/VCR player
complimentary WIFI
Break-away rooms: a wide range of locations can be used for break-away sessions
Bushmans Kloof also offers to organise team-building activities such as raft-building, treasure hunts, survival games, drumming sessions, stargazing, canoeing and hiking.
| | |
| --- | --- |
| Seating Plan | Number of Delegates |
| U shape | 20 |
| Hollow Square | 24 |
| Schoolroom layout | 18 |
| Boardroom style | 20 |
| Herringbone layout | 32 |
| Cinema style | 32 |
Services
24 hour reception service
24 hour room service / in room dining
Braai/Barbeque
Dry cleaning service
Free Wireless Internet
Health & Fitness Centre
Housekeeping service
Kid's entertainment
Laundry services
Massage treatments
Room service
Secure parking
Wake-up call
Walking safaris
Wellness & Beauty treatments
Bushmans Kloof Wellness Retreat Specials & Packages
Directions
Driving directions to Bushmans Kloof from the Cape Town International Airport
( 3 hours 44 mins / via N7 272km)

1. Head south 280 m
2. Keep left at the fork 300 m
3. Slight left toward Airport Approach Rd 150 m
4. Turn right toward Airport Approach Rd 400 m
5. Take the 1st left onto Airport Approach Rd 1.6 km
6. Merge onto N2 Rd/Settlers Wy via the ramp to Cape town 2.9 km
7. Take exit 14 for M7/Vanguard Drive toward Bonteheuwel 650 m
8. Turn right at Vanguard Dr 8.0 km
9. Continue onto N7 213 km
10. Take the exit on the right toward R364 400 m
11. Turn right at R364 1.3 km
12. Continue onto Graafwater Rd 1.1 km
13. Continue onto Augsburg Rd 500 m
14. Continue onto R364 34.2 km
15. Slight right 7.0 km

Bushmans Kloof
Wilderness Reserve & Wellness Retreat
Accreditations
Awards Bushmans Kloof - Cederberg Mountains in South Africa
Diners Club International Winelist of the Year 'Diamond Award' (2011)
Condé Nast Traveller UK Gold List: Best Hotels for Food in Africa, Middle East and the Indian Ocean (2011 and 2010)
Condé Nast Traveler USA World's Best Awards Top 50 Resorts in Africa (2011)
Condé Nast Traveller magazine, UK Readers' Travel Awards ranked 18th in the World's Top 100 Travel Experiences, and top hotel in the Middle East, Africa & Indian Ocean Islands category (2010)
Condé Nast Traveler USA Gold List (2010)
Travel + Leisure Best Service Hotel in Africa and the Middle East (2010) and No 2 overall
Condé Nast Traveler USA Gold List: Best Places to Stay in the World (2010)
Condé Nast Traveller Gold List: Best Hotels for Food in Africa, Middle East and the Indian Ocean (2010)
Travel + Leisure Best Hotel in the World and Best Lodge/Resort in Africa and the Middle East (2009)
Condé Nast Traveler World Savers Award: Global Winner of Wildlife Conservations Programs (2009)
Condé Nast Traveler Gold List Best Hotels in Africa and the Middle East (2009)
Condé Nast Traveller Readers' Travel Awards Top 100 (2009)
Spa Magazine Silver Sage Readers' Choice Award: Favourite Resort/Hotel Spa (2009)
Forbes Traveler 400 Best Hotels (2008/9)
Tatler Top 101 Best Hotels in the World (2008)
National Geographic Adventure Magazine Top 50 Eco Lodges (2008)
Conde Nast Traveler World's Best Awards (2008) Top 50 Africa Resorts
Winner West Coast Tourism Awards: Tourist Facility (2008)
Winner Relais & Chateaux Environment Trophy (2007)
Diners Club International Winelist of the Year 'Diamond Award' (2009)
Diners Club International Winelist of the Year 'Diamond Award' (2008)
Diners Club International Winelist of the Year 'Award of Excellence' (2005, 2006 and 2007)
World Travel & Tourism for Tomorrow Awards: Finalist Conservation Award (2006)
USA Travel & Leisure Poll: Voted First in Africa/Middle East "Worth the Splurge" (March 2005), Voted Fourth Worldwide for "Value Overall" (March 2005), Voted Seventh in Africa/Middle East World's Best Service (June 2005)
One of the Top 500 Hotels and Resorts in the World (January 2005)
Voted Fifth Top Hotel in the World (2004)
Andrew Harper's Hideaways Report Grand Award Winner (2004)
Wine Magazine Top 100 Restaurants (2004 and 2005)