MalaMala Game Reserve
Star Rating:

Hotel Type:

Family, Leisure, Game Lodge, Big Five

Address:

MalaMala Game Reserve
Central Kruger Park
Mpumalanga
South Africa
Single Rate for Today:
US $1070.00
Book Now
Overview
The game rich MalaMala Game Reserve adjacent to the Kruger National Park in South Africa, is the oldest and most historical private game reserve in South Africa, in existence since 1927. Sound conservation management, sheer size of land (it is the largest private Big Five game reserve in South Africa) and a 19 km (12 mile) unfenced border shared with the Kruger National Park contribute to this Reserves reputation as the finest game viewing destination in the world.
The open boundary provides unimpeded access to the Kruger National Park's wildlife, which are attracted by MalaMala's vast array of habitat types – ranging from open savannah to dense riparian zones and granite kopjes. At a mammoth 13 200 ha (33 000 acres), it is not only the largest private Big Five game reserve in the country of South Africa, it also features the largest piece of land in the Sabi Sand Game Reserve – South Africa's oldest conservancy of private game reserves. But perhaps of strongest allure to wildlife is the perennial Sand River of which 13 km (8 miles) flow through the reserve.

The Reserve is a regular contestant in the world's top tourism and travel awards. These include both the Travel and Leisure's 'World's Best Hotel', and Condé Nast Traveler's 'Top Hotel in Africa'. Although this Reserve is mainly spoken about in regards to the 'Big Five' sightings,it is also home to some of the other popular animals such as; cheetahs, pangolins and the wild dog which is Africa's second most endangered carnivore. The CEO and owner, Michael Rattray, has been closely associated with the area for almost 70 years and his formidable conservation expertise ensures that smaller beasties like dung beetles have right of way!
Activities
Walking safaris
4x4 safaris (include bush breakfasts, picnic lunches, sun downers)
Outdoor activities (led by highly qualified rangers)
The thrilling game viewing at this Lodge attracts many of the world's best wildlife photographers and filmmakers. It should therefore come as no surprise that this Reserve has also provided the subject-matter for many a celebrated wildlife book, such as the long-time MalaMala ranger Nils Kure's Living with Leopards, currently one of the most in-depth scientific studies of this elusive cat.
Accommodation
Main Camp
These rooms at the Main Camp lie under the shaded tree and overlook the Sand River. The rooms are decorated in a African theme and offer the following room amenities to guests:
'his-and-hers' bathrooms
24 hour temperature control
Insect proofing
Direct dial telephones
Mini-bar
Mini-safe
Dinner provides guests with long lasting experience with servings taking place around a log-fire in the grand old African manner, under star-punched skies and in a reed boma which has been a Lodge tradition for nearly 60 years. The delicious dinner fare features a smorgasbord of bush cuisine, including venison specialities and outstanding South African wines.

The spacious, beautifully adorned Buffalo Lounge, which displays bronzes, works of art and wildlife trophies, leads onto an expansive wooden deck that provides an elevated view of animals congregating at the Sand River.

The Main Camp offers luxury and comfort in breathtaking, untainted wilds, amazing game drives and guided walks engender close encounters with Africa's game both big and small. These features, as well as the Lodges famous 'X-factor', will make for a bushveld experience that is world-renowned and routinely recognised in the world's top tourism awards.
Suites
The Luxury Room has disabled facilities complete with a fully functional bathroom featuring all the necessary fittings required by wheelchair users – including a wheel-in shower. The safari vehicle used is equipped to comfortably and safely accommodate disabled guests on game drives. The facilities were designed with the invaluable aid of the Disabled People's Information Service of South Africa and are in line with international standards.
Sable Camp
The Sable Camp is an ideal retreat for the more reclusive traveler preferring privacy and exclusivity. The Camp can cater for up to 14 guests in 5 luxury suites. The Lion's Den Suite is a 2-bedroomed luxury suite with stunning views that can accommodate 4 people per room.
Camp amenities:
Air-conditioned
Library (optional internet connectivity and a satellite television )
Safari bar
Swimming pool
large wooden deck surrounding the camp
The Sable Camp does not accommodate children under the age of 12, unless the entire camp is reserved exclusively.
Rattray's
This Camp has 8 Luxury Suites and are designed specifically to enable guests to stay for as long as they wish. Each suite or khaya (Zulu for 'home') functions as an inclusive home, resplendent with the finest furnishings, lavish his-and-hers bathrooms and a secluded outdoor shower. Each khaya is fronted by a verandah with grand river views. A filtered plunge pool built into the private verandah provides an ideal vantage point from which to enjoy the surrounding scenery, as does the outdoor dining area, where one can enjoy bush cuisine – any fare from breakfast to dinner – in total seclusion.
Each khaya offers:
WiFi and a laptop
Satellite landlines
Plasma screen TV
All communications' equipment (except land line telephones) is locked away in a cabinet, and there it shall remain, out of sight, unless guests ask for the key.
The main building incorporates a viewing deck, an air-conditioned library for the literary devotee, an attractive bar that showcases the history of the area and an adjoining wine cellar stocked with a sundry range of South Africa's finest wines. Breakfast and lunch are served in the cool, air-conditioned dining room or on the adjoining deck, whilst the traditional reed boma and its tall, sweeping jackalberry tree make for unmatched outdoor evening dining.

However, the safaris reflects the 40-year-old, traditional ethos of the Game Reserve – game viewing. Sound conservation management ensures an environmental sanctuary for an impressive density and diversity of wildlife. At Rattray's on MalaMala we strive for a maximum of 4 guests per safari vehicle, so enabling this unspoilt piece of African paradise to unfold effortlessly before nature lovers.

Age restrictions do exist and are applied in the interests of personal safety as well as the comfort of other guests. Family rooms may be used as a triple or a quad room to accommodate children – the separate lounge is converted to a bedroom. Every suite/standard room includes two bathrooms.
Children
Children of all ages are welcomed to the Camp however, those aged five and under are not permitted to dine in the boma or to be taken on game drives, unless their parents have reserved sole-use of the game drive vehicle. Other children servies on offer upon request are:
Dining arrangements
Baby-seating services
Family rooms and triple rooms
Services
Room Types
Room Amenities
Hotel Restaurants
Dinner is a highlight of the MalaMala experience and is served around a log-fire at the MalaMala camp. Guests are invited to enjoy this traditional African experience under star-punched skies and in a reed boma.
The delectable dinner fare features a smorgasbord of bush cuisine, including venison specialties and outstanding South African wines.
Breakfast and lunch at Rattrays are served in the cool, air-conditioned dining room or on the adjoining deck, whilst the traditional reed boma and its tall, sweeping jackalberry tree make for unmatched outdoor evening dining.
Address: MalaMala Game Reserve, Central Kruger Park, Mpumalanga, South Africa
Activities / Sports and Leisure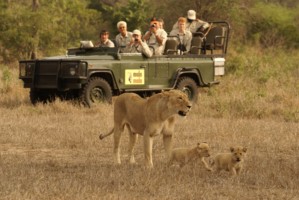 A day at MalaMala Game Reserve features exhilarating game viewing opportunities. On arrival at the camps within the reserve, guests are introduced to their ranger who acts as host, guide and educator.
Game drives are conducted in open 4-wheel drive safari vehicles in the 40,000 acre private reserve. The rangers are in constant radio communication with one another to keep each other informed about the location of wildlife.
The safari vehicles enable the rangers to leave the road and provide guests with close up game viewing and fantastic photographic opportunities. Night drives, with the aid of powerful spotlights, bring the bush to life at night. For the more energetic, bush walks are available.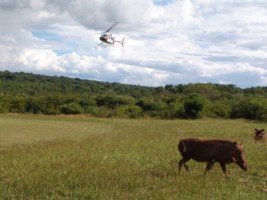 Helicopter excursions start at the MalaMala airstrip. You will be flown over a collection of the most scenic areas in South Africa. These include the Blyde River Canyon, Gods Window ,The Pinnacle and some of the most breathtaking waterfalls. The Lisbon Falls tumbles down a 92 metre cliff into a large pool while the Berlin Falls has an 80 metre drop. A private high altitude picnic spot is atop a mountain enabling one to experience a closeness with nature.
Conferences and Events
Facilities
MalaMala Game Reserve Specials & Packages
Directions
The magnificent MalaMala Game Reserve is a five and a half hours drive from Johannesburg.

- Motorists from Johannesburg turn left off the N4 at Mbombela and proceed to Hazyview along the R40 via White River.
- At Hazyview turn right along the R536 towards Skukuza (Paul Kruger Gate) for 37.5 km.
- At the MalaMala Game Reserve sign turn left onto a gravel road and follow the MalaMala road signs to the camp for 29km.

There is a vehicle entrance fee into the Sabi Sand Wildtuin, payable on arrival and the gates close at 22h00. We would appreciate it if all car arrivals telephoned the camps from Hazyview to advise of their expected arrival in approximately 90 minutes.

KINDLY NOTE: NO FUEL IS AVAILABLE AT THE CAMPS. PLEASE THEREFORE ENSURE THAT YOU OBTAIN SUFFICIENT FUEL IN HAZYVIEW FOR YOUR RETURN JOURNEY.
Accreditations
MalaMala awards:
Travel and Leisure:
2011 Rated 19th Best Hotel (Africa & Middle East)
2010 Rated 49th Best Hotel 2
009 Rated 77th Best Hotel
Conde Nast Traveler:
Gold List 2011
Gold List 2010
Gold List 2009
Gold List 2008
Gold List 2007
Gold List 2006
Gold List 2005
World Travel Awards:
2011 South Africa's Leading Safari Lodge
2010 South Africa's Leading Safari Lodge
1997 World's Leading Safari and Game Reserve