Royal Malewane Game Lodge
Star Rating:

Hotel Type:

Spa, Leisure, Game Lodge

Address:

Royal Malewane Game Reserve
near Hoedspruit
Limpopo
South Africa
Single Rate for Today:
R21580.00
Book Now
Overview
The luxurious Royal Malewane Game Lodge nestles within the renowned Royal Malewane Game Reserve, on the western fringe of the Kruger National Park in South Africa in close proximity to Hoedspruit. Accommodating guests in colonial splendor, the Lodge offers an exclusive getaway for those who value privacy, personalized service and provides the best game viewing South Africa has to offer.
Accommodation
Elevated walkways link free standing, luxurious suites to the library, shop, dining and reception areas.Set amongst indigenous vegetation, each luxury suite features its own spectacular outdoor terrace with private pool and gazebo. The suites offer a palatial air-conditioned bedroom which is complete with fireplace, mini bar, canopied king size bed and extravagant bathroom with a large Victorian bath as well as indoor and outdoor showers.

The interior decor of the suites draw inspiration from the grand colonial ethos. Here, after a long day of spectacular game viewing,guests may relax in comfort in their spacious suites.
Stretching out majestically in the shade of Acacia thorn and boasting panoramic views, the Royal Suite as well as the Royal Malewane Suites are the pinnacle of refinement and opulence. These luxurious private hideaways accommodate four guests each in two en-suite rooms, which are complete with private lounges and dining facilities. Complimentary services include a private butler and chef, masseuse and private game drives.
Dining
Dining is a grand affair for guests staying here. The world class cuisine is served with all meals and local beverages inclusive. Guests are treated to a full breakfast, lunch, high tea and gourmet dinner all of which are expertly prepared by the award-winning chef, who is on hand to cater for any special preferences or requests, including a favorite dish for dinner under starlight in the boma or a pre-packed bush breakfast.
Health & Beauty Spa
The Spa is the perfect refuge for guests seeking relaxation and rejuvenation in a peaceful and tranquil environment. This natural sanctuary for the senses in the heart of wildest Africa offers guests an indoor and outdoor treatment area, gym, steam room and, the highest level of personalized service. Guests may enjoy a treatment of their choice at the luxurious spa or in the sala, with only nature surrounding them. Many different spa treatments are available including massages, aromatherapy, skin care and hydrotherapy.

For those who like to get closer to nature, the outdoor area consists of a Vichy shower and large spa bath. The Vichy shower has seven heads, which can be positioned to simultaneously achieve different therapeutic effects on specific areas of the body.
Activities / Facilities
Game viewing here provides guests with the best opportunities for seeing the great abundance of big game on the 12000 ha Reserve which is also home to the "Big Five": lion, leopard, elephant, buffalo and rhino. Over 300 recorded bird species are also to be found in the game reserve. Game viewing is tailored to guests' individual needs, either by open Land Rover or on foot.
Game drives: early morning, late afternoon, night game drives
Bush Walks with guides
Swimming Pool
Health and Beauty Spa
Gym.
Services
Air conditioning
Airport transfers
Concierge services
Game drive safaris
Housekeeping service
Massage treatments
Porters
Secure parking
Tours & Transfers on Request
Wake-up call
Room Types
Providing beautiful views, the six spacious and luxurious suites at the Royal Malewane Game Lodge are the supreme of refinement and opulence in game lodge accommodation. Comfortably appointed and fully air-conditioned, the Luxury Suites feature an elegant colonial-style refuge in the heart of the bush.

Each Luxury Suite at the Royal Malewane Game Lodge accommodates two guests and offers private wooden decks, rim-flow pools and thatched gazebos. The main room contains a fireplace, exclusive dark wooden furniture and a canopied king-size bed. Bathrooms are extravagantly sized, full of light and the epitome of indulgence.
At Royal Malewane, guests are invited to enjoy the large Victorian-style bath and shower inside or out. Elevated walkways link the Luxury Suites to the main lodge of Royal Malewane. Only the wildlife witnesses guests relaxing in this private, luxurious game lodge accommodation.
Luxury Suite features:
air conditioning
wooden deck
rim flow pool
thatched gazebo
large bathrooms
canopied king size bed
inside and outside showers
large Victorian bath
Today's Rate
Single Room: R21580.00
Double Room: R28780.00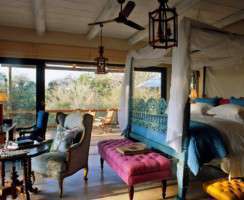 For even more privacy and seclusion, the Royal Suite offers its own sitting and dining areas, kitchen and chef, not to mention butler, guide, tracker and personal game drive vehicle. Guests may enjoy privacy and exclusivity in this luxurious hideaway at the Royal Malewane Game Lodge.

Space and splendor characterise the Royal Suite at the Royal Malewane Game Lodge in South Africa. The Royal Suite can accommodate four guests in fine safari style accommodation, with comfortable space for relaxing, dining, sleeping and bathing. A large outside deck which features a pool allows guests to make the most of the wild beauty of the surroundings.

Inside, the décor of the Royal Suite is classic colonial bush style, reflecting old world elegance which is perfectly suited to luxury safari accommodation. Wonderful antiques, paintings and curios are richly evocative of a leisured and luxurious past, whilst the secluded location provides a dreamy romantic escape unsurpassed in its peace and tranquillity.
Today's Rate
Single Room: R77280.00
Double Room: R77280.00
Hotel Restaurants
Unforgettable dinners are one of the highlights for guests staying at the Royal Malewane Game Lodge in Limpopo, South Africa. The dining area and lounge of this five star game lodge overlook the waterhole, which means that with some luck spectacular game sightings can be observed during meal times. The meals, local beverages and house wines are included. Enjoy a full breakfast, lunch and gourmet dinner in the elegant setting of the main lodge whilst soaking up the picturesque surroundings.

Outdoor dining venues at the Royal Malewane Game Lodge allow guests to experience the amazing atmosphere of the bush at night. In the Boma, serenaded by frogs and crickets as well as being entertained by traditional singing and dancing, guests at the Royal Malewane Game Lodge enjoy delicious flame-grilled fare under a dazzling sky full of stars.
Dinner in the lodge's Bedouin tent bedecked with Moroccan lanterns is equally special for guests, as braziers blaze high and a wonderful selection of gourmet dishes form an exotic feast of flavours. The lodge provides a unique selection of South Africa's finest wines to complement each meal.
Address: Timbavati Game Reserve, Kruger Park Phalaborwa Gate Area, Limpopo, South Africa
Hotel Spa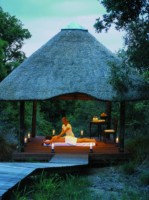 The Royal Malewane Bush Spa is world-renowned for its magnificent setting and the sheer luxuriousness of its wellness treatments. Most of the available spa treatments make use of indigenous ingredients. The Safari Spa at the Royal Malewane Lodge offers an oasis of refreshment, relaxation and restoration for mind, body and spirit amidst the tranquillity of the African bush.

The exclusive facilities at the Royal Malewane Bush Spa are comprehensive and include a gym from where scenic views can be enjoyed, sparkling heated lap pool, steam room, Jacuzzi, hot and cold African baths and private casitas for relaxation or treatments. Guests are welcome to relax around the pool in the central courtyard. Healthy juices and snacks are available and a computer room with full internet access make this unique safari spa that much more convenient.

The professional team of internationally qualified spa therapists provides a wide range of treatments for beauty, health and relaxation at the Royal Malewane Game Lodge, South Africa. Massages ease away any tension whilst the hydrotherapy treatments use untainted, mineral-rich water sourced from an underground stream which flows through the reserve.

The health and beauty spa at the Royal Malewane Game Lodge uses Dermalogica products for their treatments. Blissful sensory experiences with an unforgettable African touch are the speciality of the Royal Malewane Bush Spa.
Royal Malewane Bush Spa facilities:
gym
sparkling heated lap pool
steam room
Jacuzzi
hot and cold African baths
private casitas for relaxation or treatments
pool in the central courtyard
Activities / Sports and Leisure
Conferences and Events
Facilities
Royal Malewane Game Lodge Specials & Packages
Accreditations
Since its opening in January 2000, the five star Royal Malewane Game Lodge in South Africa has been renowned for its superior safari experience. Besides being featured in numerous local and international publications, the Royal Malewane Game Lodge has also received many prestigious accolades.

These Royal Malewane awards include:
No 3 - Travel + Leisure World's Best Hotels 2011 (USA)
Top 20 Lodges and Resorts in Africa and the Middle East - Travel and Leisure World's Best -2010 (USA)
The Best 100: Retreats in Africa - The Ultimate Chic Collection -2009 (SA)
Best Safari Camp Spa - The Good Safari Guide 2009 (UK)
Gold Achiever - AA Travel Guides American Express Accommodation Awards 2009 (SA)
The Best Designer Retreat in Africa - Amarula: Best Retreats in Africa Awards 2008 (SA)
Hotel of the year Nominee – Virtuoso Best of the Best 2008 (USA)
"Reader's Choice 2008" Grand Award Winner- Andrew Harpers Hideaway Report
The 101 Best Spas in the World- Tatler Spa Guide 2008 (UK)
Hotel of the year Nominee – Virtuoso Best of the Best (USA) 2008
The 101 Best Spas in the World- Tatler Spa Guide (UK) 2008
Best Safari Spa 2008- Les Nouvelles Esthetiques (South Africa)
Top 101 Hotels, Big Hitters List - Tatler (UK) 2007
"Hideaway of the Year 2007" Grand Award Winner- Andrew Harpers Hideaway Report
The Worlds 100 Ultimate Escapes- Luxury Resorts Robb Report (USA) 2007
Best Safari Lodge - Tatler (UK) 2006
Top 101 Hotels - Tatler (UK) 2001, 2002, 2003 and 2006
Top 10 Spas of the World - Tatler (UK) August 2003
Top 57 Hot Spots of the World - Condé Nast Traveller 2001
"Hideaways of the Year 2001" Grand Award Winner - Andrew Harpers Hideaway Report
Best Destinations for 2001 - Forbes Magazine
One of the top 150 places in the World - Harpers & Queen Travel Awards 2003
Chaine des Rotisseurs Blazon for Cuisine