Duma Manzi Eco Lodge and Spa Reviews & Information
Use the drop down below to find out more information about Duma Manzi Eco Lodge and Spa.
Duma Manzi Eco Lodge and Spa are on Twelve Thousand Acres of malaria-free the picturesque Natal. Found in the heart of a remarkable wooded valley in KwaZulu Natal this deluxe escape affords guests with an unforgettable and value-for-money 5-star wellness and wildlife experience. The lodge is an exclusive sanctuary offering the unique African wilderness to guests while ensuring that elegance and the personal touch is still a vital part of the experience.
The rooms at this Lodge are an elegant blend of luxury and homely charm with private decks from where beautiful views of the river and the distant mountains can be admired; the Luxury Rooms ensure that guests savour the spirit of the surroundings. Sleep comes quickly with the soothing sounds of water over rocks and stones in the distance.
In keeping with nature and the lodge's solar power energy, there are no air-conditioners, televisions, fridges or kettles in the rooms. Cooler boxes, placed in rooms, ensure drinks are kept cool while hot water is supplied in flasks for tea and coffee.
Standard room features:
Bathrobes
Ceiling fan
Custom-designed soft furnishings
Daily housekeeping
Direct dial telephone
In-room safe
Luxurious toiletries (Instinctive By Nature range of natural products)
Luxury bed linen
Open plan luxury room
Tea and coffee making facilities.
Facilities
The Main Lodge
The Duma Manzi main lodge is built on raised wooden platforms and offers a spacious veranda. The lodge is furnished in a classical Colonial African style proving a reminiscent of days gone by. Guests can relax with a good novel in one of the comfortable couches or enjoy a refreshing sundowner on the bar deck while taking in the magnificent view of the river below. A boma area creates an ideal setting for fine dining in striking surroundings.
Dining
Guests can enjoy an elegant dining experience of African Fusion Cuisine, a culinary delight of homestyle and healthy traditional foods during their stay here. All ingredients are fresh, and homemade in the traditional South African and African styles and all palates are catered be it the health conscious or the indulgent. To further enhance the dining experience, South African wines have been paired perfectly with the cuisine.
In the morning, enjoy freshly ground coffee in the indoor wooden bar and delicious sundowners in the early evenings. With a large deck and views of the majestic wildlife and prolific birdlife, the surroundings create the perfect backdrop for relaxing drinks any time of the day.
A TV Lounge is available for guests to enjoy which is equipped with a pool table and board games.
Conferences and Events
Experience a true African wilderness conference in South Africa when booking a minimum of five luxury rooms at the Lodge. The conference facilities are suitable for executive or board meetings as well as executive team building activities. Individual programmes can be designed to cater to specific requests e.g. mountain biking or archery. Menus can also be modified as required to accommodate conference delegates.
Conference facilities
Conference room which is suitable for board meetings, lectures and presentations
18 delegates in "U" shape
Discussion notepads and pens
Water, sweets and cordials
Additional equipment: screen, flipchart and pens, data projector
Breakaway rooms
Health and Beauty Spa
A private sanctuary, beautiful rock plunge pool and peaceful Jacuzzi area ensure that guests find themselves entering another world, one with the exciting prospect of a virtual metamorphosis. At the Lodge & Spa, guests can restore the balance of mind, body and soul of what life's stresses deplete.
Whether guests choose to indulge in one of the holistic spa treatments, leisurely walks along the river bank, embark on one of the advanced self-guided or guided trails, or mountain bike and explore, the choice is there for guests to make.
Special Occasions & Weddings
The Lodge provides a unique, private sanctuary that offers the ultimate venue for a variety of different functions including:
Intimate and romantic weddings
Anniversaries
Birthdays
Romantic occasions
Wellness rejuvenations
Family reunions
Privacy and exclusive luxury ensure guests capture the magic of the surroundings, providing the perfect location for a celebration where family and friends can enjoy wildlife drives, boma or dinners and elegant fine dining.
An exciting combination of a wild African experience and luxurious opulence during a wedding at this Lodge ensures that guests feel like royalty, enjoying therapeutic massages, sunset cocktails and riveting wildlife viewing.
A personal wedding planner is available to assist with all the planning including entertainment, the menus, beverages, wedding decor, photography and the desired spa treatments. The Lodge offers a private sanctuary which is ideal for small intimate weddings ranging from six to 40 people.
Below detailed information about the Duma Manzi Eco Lodge and Spa is available.
For any queries regarding this hotel, you are welcome to contact us.
Available Rooms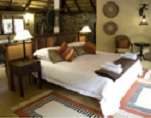 Open-plan luxury rooms, with a communal swimming pool, provide guests with relaxed yet private accommodation in the tranquil African veld. The rooms are ideally positioned to offer astounding views of the river and stunning cliffs. Fish Eagles can be seen and heard as they soar and feed through the valley.
Fish Eagle Luxury room features:
Ceiling fan


Custom-designed soft furnishings


Daily housekeeping


Direct dial telephone


In-room safe


Luxurious toiletries


Luxury bed linen


Open plan luxury room


Tea and coffee facilities.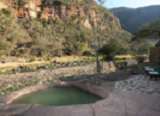 The Luxury Family unit at the Duma Manzi Eco Lodge and Spa consist of two adjacent bedrooms, each with its own en- suite Victorian-African-styled bathroom. The unit has a private garden and rock pool with entrance from glass sliding doors in each bedroom. This accommodation option is perfect for families to enjoy quality time together without interruptions or disturbances from other guests.
Luxury Family Unit features:
 Open plan luxury room
 Bathrobes
 Ceiling fan
 In-room safe
 Luxurious toiletries
 Exclusive bed linen
 Custom-designed soft furnishings
 Daily housekeeping
 Direct dial telephone
 Tea and coffee making facilities.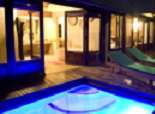 The private Sandstone Luxury Rooms are perfectly blended with the astounding beauty of the surrounding wilderness, and each room has its private plunge pool. Glass doors lead from the bedroom and bathroom onto a wooden deck providing splendid views of the cascading river below.
Sandstone Luxury Rooms:
Custom-designed soft furnishings


Daily housekeeping


Direct dial telephone


In-room safe


Luxurious toiletries


Luxury bed linen


Open plan luxury room


Tea and coffee facilities.
Duma Manzi Eco Lodge and Spa Specials
There are currently no specials for the Duma Manzi Eco Lodge and Spa.
Please check again soon.
Guest Reviews
Your review has been submitted
Thank you for submitting your review. Our team will check your review and be in touch should we have any questions.
An error was found. Please correct and submit again.
Share your personal review with us of your stay at this property.
---
GPS Co-Ordinates
Latitude: -30.000971
Longitude: 30.301866
Directions
Access to the Duma Manzi Eco Lodge & Spa

SELF DRIVE:

Guests are welcome to self-drive to the Lodge. Please allow for about 1hours and 15 minutes for a scenic drive from Durban (90kms) and Umhlanga (124kms).
It takes about 45 minutes to reach the Duma Manzi Eco Lodge & Spa from Pietermaritzburg.

AIR TRANSFER

Helicopter Pad: it is about 20 minutes flying time from the Virginia Airport / Helicopter Charter Flights can be requested.
Fixed wing aircraft also coordinates available for the nearby airstrip.
Please note this is not a registered landing strip and landings need to be arranged with the lodge before arrival.

Directions to the Duma Manzi Eco Lodge & Spa from KwaZulu North Coast / King Shaka International Airport:

From King Shaka International Airport picks up zone follow signs N2 South/Durban (N2 Toll Gates)
N2 toll gates are approximately 4km from pick up zone
Continue along the N2 (N2 Port Shepstone) for 32,7 km until the sign showing N2 Port Shepstone N3 Pietermaritzburg
Follow N3 sign Pietermaritzburg / Johannesburg
Continue to follow N3 Pietermaritzburg signs until you reach N3 Toll Gates; approximately 34,3 km
Continue N3 Pietermaritzburg (after passing through Toll Gates)
Take the Camperdown turn off ( approximately 34,5 km)
At the Yield sign at the top of the off ramp, turn left to R603 Umbumbulu
Travel 3km to T-Junction (Stop Street) and turn left to R603 Umbumbulu
Continue for 15.5 km and turn right to R624 Eston / R56 Richmond (as a landmark, there will be a Caltex Garage to your far left)
Travel past the Eston Sugar Mill (Illovo) on your left
Continue for 24.3 km
You will reach a sign board on your left which reads Duma Manzi Private Game Reserve - turn left onto a gravel road
Travel 7 km until you reach the main gate.

Directions to the Duma Manzi Eco Lodge & Spa from KwaZulu South Coast:

Travel on N2 South - take R603 Umbumbulu/Kingsway turn off
Follow R603 Umbumbulu for about 48kms, as a landmark, there will be a Caltex garage on your right as you pass
Turn left to R624 Eston / R56 Richmond
Pass Eston Sugar Mill (Illovo) on your left and continue for about 24kms
Turn left onto gravel road at DUMA MANZI PRIVATE GAME RESERVE board
Travel about 7kms on a gravel road to the main gate.

Directions to the Duma Manzi Eco Lodge & Spa from Johannesburg via Pietermaritzburg:

Approaching from Johannesburg on N3 Exit 83 (signposted Chatterton Road/M40)
Follow M40 to city centre
Go past a school on the right and cross the bridge
At the 1 st robot turn right into Woodhouse Road
After short distance (approx 200m) ease right into New England Road
Turn right at the robot past a Shell garage (on your left)
At the next robot, turn left into Alexandra Road (R56 Richmond)
Remain in R56 past Thornville & Bainesfield
Go Past Richmond Village & Country Club then turn left on R624 (Eston)
Drive 4-5km along R624 then turn Right onto dirt road (Sign posted to Duma Manzi)
Follow the dirt road for 7 km until you reach reserve gate.
Star Rating
5 Star
Memberships
Best of KZN - destinations of destinction
Bird Life South Africa - Birder Friendly Establishment
Tourism Grading Council of South Africa
Zulu Kingdom South Africa
Convert multiple currencies