Gondwana Canyon Village
Gondwana Canyon Village
Gondwana Canyon Village
Gondwana Canyon Village
Gondwana Canyon Village
Gondwana Canyon Village
Gondwana Canyon Village
Gondwana Canyon Village
Gondwana Canyon Village
Gondwana Canyon Village
Gondwana Canyon Village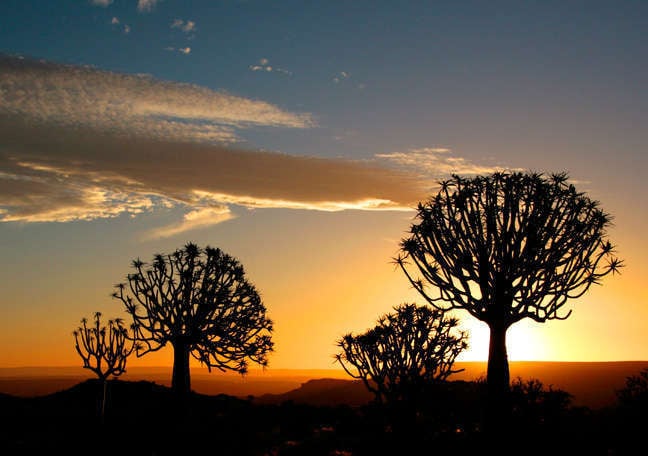 Gondwana Canyon Village
Gondwana Canyon Village Reviews & Information
Use the drop down below to find out more information about Gondwana Canyon Village.
The Gondwana Canyon Village lies at the foot of a rock face, approximately 20 km from the famous Fish River Canyon in Namibia, Southern Africa. With the Cape Dutch style, air-conditioned cottages and thatched restaurant, this little village is the ideal starting point for exploring the canyon.

The main building is built right into a massive granite boulder and houses an exquisite restaurant and bar. The daily life of the regions' early inhabitants, the Bondelswart-Nama, can be seen on murals in the restaurant and chalets. Guests can enjoy the peace and quiet, and take a refreshing dip in the pool with a view that is unforgettable.
Accommodation
The Gondwana Canyon Village features a total of 42 rooms which consist of various different room types ideal for single travelers, friends, as well as families. The rooms offer convenient features such as air conditioning for the warm month, heating for the cooler months as well as en-suite bathrooms with showers.
Room features:
Air Conditioning / heating
En-suite bathrooms, showers
Safe
Verandah
Mosquito nets
Coffee and tea making facilities.
Facilities
The Canyon Village offers a restaurant and bar where breakfast, lunch and dinner are available as well as refreshing beverages. The outdoor swimming pool offers guests a fun filled time in the sunshine.
Facilities:
Restaurant
Bar
Swimming pool
Free Wi-Fi at the reception
24-hour security
Mobile connectivity
Secure parking.
Activities
For the active, many hiking and walking trails are available which is a great way to explore the unique landscape found in this region of Namibia. Excursions to the Fish River Canyon are available as well as sundowner drives.
Activities:
Hiking and walking (trails)
Excursions to the Fish River Canyon
Sundowner Drives.
Gondwana Canyon Park in Namibia
The Nama Karoo has yellow flowers of quiver trees which against the blue sky at the second largest canyon in the world. The quiver tree is a typical stem succulent of the Nama Karoo, and on the vast plains of Gondwana Canyon Park, several clusters can be found.
With an area of 1,120 km² and the first tract of land acquired in 1995, this park is the largest and oldest nature reserve of the Gondwana Desert Collection. Visitors to this area of Namibia can watch springbok, gemsbok, hartebeest, ostrich and mountain zebras.
Fish River Canyon
Its dimensions are enormous: 161 km long, up to 26 km wide and 505 meters deep. The Fish River Canyon is seen as the largest canyon in Africa and second largest canyon on earth - after the Grand Canyon in the US.

Just as impressive is the period during which it was formed: 340 million years ago a fault with a width of 21 km appeared and the river meandered through it in wide loops. When the ancient continent of Gondwana disintegrated 120 million years ago, the Fish River started to dig deep into the ground and create its system of gorges.
Below detailed information about the Gondwana Canyon Village is available.
For any queries regarding this hotel, you are welcome to contact us.
Available Rooms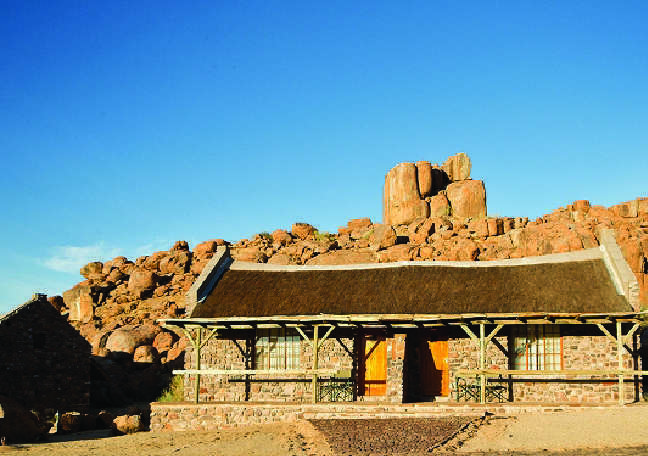 Air Conditioning / heating
En-suite bathrooms, showers
Safe
Verandah
Mosquito nets
Coffee and tea making facilities.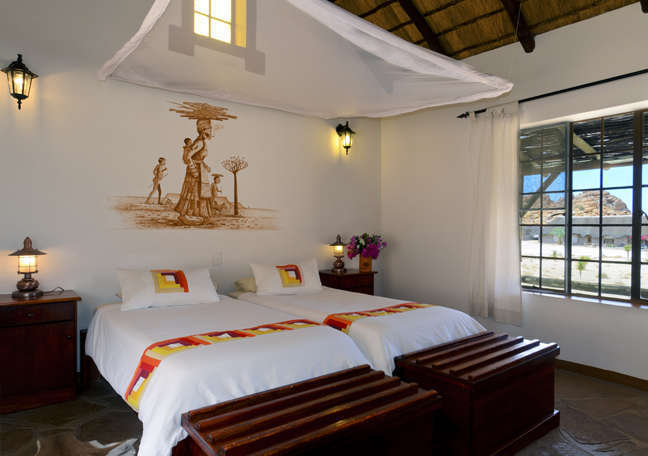 Air Conditioning / heating
En-suite bathrooms, showers
Safe
Verandah
Mosquito nets
Coffee and tea making facilities.
Gondwana Canyon Village Specials
There are currently no specials for the Gondwana Canyon Village.
Please check again soon.
Guest Reviews
Your review has been submitted
Thank you for submitting your review. Our team will check your review and be in touch should we have any questions.
An error was found. Please correct and submit again.
Share your personal review with us of your stay at this property.
---
GPS Co-Ordinates
Latitude: -27.276959
Longitude: 17.705141
Directions
Driving directions to Gondwana Nature Park from Windhoek Airport, Namibia:

1. Head south on Aristotles Street toward Darwin Street
2. Turn left onto Plato Street
3. Take the 1st left toward Hegel Street
4. Take the 2nd left onto Hegel Street
5. Turn left onto Western Bypass
6. At the roundabout, take the 2nd exit onto Rehobother Rd/B. Continue to follow B1
7. Slight left to stay on B1
8. Continue onto B4
9. Turn left onto C12
10. Turn right onto D601
11. Turn left onto D324
12. Turn left
13. Slight left
14. Turn left

Gondwana Nature Park, Karas, C37, Namibia
On site parking facilities are provided for guests.
Convert multiple currencies