Isandlwana Lodge Reviews & Information
Use the drop down below to find out more information about Isandlwana Lodge.
The Isandlwana Lodge on the iNyoni rock overlooks Isandlwana, which marks the site of the Anglo-Zulu battle. This fight took place on the 22 January 1879, in South Africa's KwaZulu-Natal province. This excellent getaway retreat lies within close driving distance so some game reserves which allows guests to combine Zululand's rich wildlife heritage with the history of the battlefields during their stay at the Isandlwana Lodge.
Guests are invited to relax at the luxurious Lodge and re-live the impressive history of both the Anglo Zulu and Anglo Boer Wars. Additionally, guests are provided with the opportunity to enjoy the vibrant culture of the modern Zulu people combined with a visit to one of the famous Zululand Game Reserves.
The hotel rooms at the Lodge face scenically beautiful Isandlwana plain with a view of the mountain. The Lodge features a total of twelve luxury rooms which feature en-suite bathrooms. The rooms are a mixture of traditional and modern styles. From the comfort of the Lodge, guests can admire the scenic views of the breathtaking landscape.
Nearby game Reserves in KwaZulu-Natal
The adjoining Umfolozi game reserves, are home to 'The Big Five' (elephant, rhino, lion, leopard and buffalo), but are perhaps best known for the part they played in preventing the total extinction of Africa's black rhino population. Both the black and white species of rhino are found here. The game reserve is world famous for its abundance of bird life. More than 500 species of birds are in Mkuzi where visitors are encouraged to use the many hides on the river bank and lakeside to view the passing panoply of wildlife. Among various other reserves run by eZemvelo KZN Wildlife, Itala Game Reserve in the North offers visitors an opportunity to mingle with herds of giraffe, zebra and an incredible variety of antelope in a unique set of valleys surrounded by almost mystical rock formations, reminders of the wild and untamed Africa of yesteryear.
Activities
Isandlwana Historic Reserve
Guests are encouraged to experience the walk through the Isandlwana Historic Reserve where one can observe various birds and game including Impala and Zebra. In certain parts, one may find piles of white stones which indicate mass graves of British soldiers who fought and died at Isandlwana.
Fugitive's Trail Walk
This walk takes about 3 hours and can be enjoyed by the physically fit. It is a must for those interested in the Battle of Isandlwana. During the warm summer months, one will have to swim the Buffalo River.
Birding Tours
Length of Tour: Average 4 Hours / Minimum 4 People
There are over 300 species of birds in the region of Isandlwana during the year. In the immediate area of the Lodge, there are over 70 species.
Cultural and Photographic Tours:
Length of Tour: Average 6-7 Hours
The cultural tours to Qhudeni are taken by a European guide, accompanied by a Zulu and receive a full day. The tour departs from the Lodge at 10:00 A.M. and returns at four p.m. This trip goes into one of the most remote and scenic parts of Zululand; a region of vast mountains, huge ravines, rivers and natural forests. The Qhudeni Mountain stands 6000 feet above sea level. Only recently have dirt roads been added to allow taxis and other off-road automobiles access. One can encounter Zulu women and children who have had little or no contact with Europeans.
Day Trips in Zululand
Mangeni Falls
Prince Imperial Monument
Blood River
Talana Museum
Horseback Riding
The Lodge offers the unforgettable experience of horse trails through the limitless landscapes and remote rural Zulu settlements of KwaZulu-Natal. All rides are guided by an experienced rider & guide, well versed in the history of the area. Large trail ponies are tractable, sure-footed and reliable, therefore well suited to the rough terrain and long distances.
Below detailed information about the Isandlwana Lodge is available.
For any queries regarding this hotel, you are welcome to contact us.
Available Rooms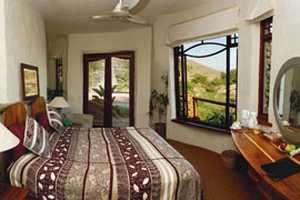 Twin / Double room
# Rooms:

6
The Isandlwana Lodge in KwaZulu-Natal, South Africa, offers travellers twelve luxury rooms all of which are en-suite and tastefully decorated in a mixture of traditional and modern styles.
Isandlwana is the perfect tourist destination at the location of the ancient Zulu conflicts. This magnificent Lodge is carved into the iNyoni rock formation on top of which the Zulu commander stood during the famous battle of Isandlwana on 22 January 1879.
Isandlwana Lodge Specials
There are currently no specials for the Isandlwana Lodge.
Please check again soon.
Guest Reviews
Your review has been submitted
Thank you for submitting your review. Our team will check your review and be in touch should we have any questions.
An error was found. Please correct and submit again.
Share your personal review with us of your stay at this property.
---
GPS Co-Ordinates
Latitude: -28.337991
Longitude: 30.666661
Directions
Directions from Durban to the Isandlwana Lodge:

Take N2 Coastal Road North, past Stanger. Turn left to Eshowe on R66 at the Gingindlovu tollgate.
Proceed through Eshowe to Melmoth. Turn left a few km out of Melmoth onto R68 to Dundee/Babanango. Travel on this road for 25,5 km.
There is a signboard indicating a right turn to Babanango/Dundee. Please keep a look out when you come to this point, on the R68.
Follow this road to Babanango. At the stop sign in Babanango turn left. You are still on R68 to Dundee/Nqutu. From Babanango to the Isandlwana Lodge turn-off is +/- 41 km. Continue along the dirt road for 9 km into Isandlwana village.
Follow the sign to the Information Centre and drive past it to Isandlwana Lodge. Approximate time from City Centre, 4 hours; from King Shaka Airport in Durban, 3.5 hours.

Or

Take the Pietermaritzburg - N3 - to Mooi River and Ladysmith. Branch off to Ladysmith, drive through Ladysmith on the N11 to Elandslaagte. Approx 30 km from Ladysmith - very sudden right turn to Dundee/Glencoe. Pass Glencoe and turn right at T-Junction to Dundee.
Travel through Dundee on the Vryheid road. About 5 km outside Dundee turns right on the Nqutu Road. Drive to Nqutu and when you get to 4-way Stop, turn right to Isandlwana/Babanango. Continue this road for approx. 17 km to right turn to Isandlwana Lodge/Information Centre. Travel approx.
9 km on dirt road, straight through to the village of Isandlwana. (Lodge visible on right side). Follow road signs. Turn right to Lodge and Information Centre. This road takes about an hour longer but is a better road.

Directions from Johannesburg to the Isandlwana Lodge:

Take N3 South towards Durban, passing Heidelberg to Villiers. Branch left onto R103 before Villiers Toll Plaza and then on to the R34.
By-pass Vrede and Memel on to Newcastle. In Newcastle, turn right at the traffic light and follow the road through town and turn right onto the N11 to Ladysmith. Continue south on N11 and turn left onto the R68 to Dundee.
Drive through Dundee, past Talana Museum and onto the R33 to Vryheid. Turn right onto the R68 to Nqutu a few km outside Dundee. In Nqutu at the four-way stop, turn right toward Babanango. Continue along R68 for approximately 14 km. Turn right on a dirt road following signs to Isandlwana Battlefields and Isandlwana Lodge. Continue along the dirt road for 9km to Isandlwana village.
Follow the sign to Information Centre and drive past to Isandlwana Lodge.
Driving time is approximately 5 hours
On site parking facilities are provided for guests.
Star Rating
4 Star
Memberships
SATSA (Southern Africa Tourism Services Association)
Tourism Grading Council of South Africa
Convert multiple currencies