The Punda Maria Restcamp is in the northern region of the Kruger National Park offers. Guests are assured of an unforgettable bushveld experience here. A variety of outdoor activities is available to choose from including swimming, exciting game drives, and exciting game walks.
The thatched Bungalows and Family Cabins provide self-catering facilities for guests. Punda Maria accommodation at this rest camp features airconditioning. There are a variety of different room type options available, some of which offer kitchenettes and en-suite bathrooms while others make use of the communal kitchen facilities.
Room types:
Bungalow BG2
Bungalow BD3
Family Cottage FU6.
Facilities and Services
The outdoor swimming pool is accessible for guests. For dining, this camp has a restaurant and a cafeteria where meals are served. As an alternative, guests may prepare their meals in the communal kitchen and braai areas. Furthermore, a shop, petrol station, public telephones as well as a laundromat are available.
Outdoor swimming pool
Restaurant and cafeteria
Shop
Information on reception
Public telephone
Postbox
Laundromat
Petrol Station
Communal kitchens
Communal ablutions
Cutlery and plates hamper (available at reception)
Basic First Aid Assistance
TVs (limited DSTV) available in family bungalows only
Cellphone reception
No Wi-Fi.
Activities
A stay in the Kruger National Park would not be complete without its exciting wildlife activities. Visitors have the opportunity to book the guided walking safaris and the exciting game drives. These take place early in the mornings and in the late afternoons and early evenings.
Guided Bush Walks
Game Drives with trained field guides
Paradise Flycatcher camp walk
Nyalaland Wilderness Trail (pre-booked overnight activity)
The bird hide overlooking waterhole on the camping site fence.
Below detailed information about the Punda Maria Rest Camp - Kruger National Park is available.
For any queries regarding this hotel, you are welcome to contact us.
Available Rooms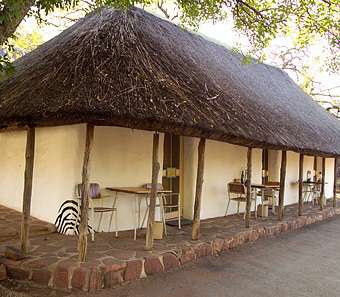 This bungalow sleeps two people in 2 single beds. The unit is air conditioned and does have a fridge, but there are no utensils and guests make use of the communal kitchen. The bathroom in this bungalow only has a shower.
Bungalow BG2 features:
 1 bedroom
 Two single beds
 Air-conditioning
 Communal kitchen
 Fridge
 WC and shower.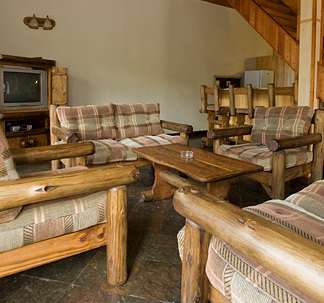 Family Cottage FU6Z
# Rooms:

1
With access to the mobility challenged, this comfortable family cottage offers accommodation to 6 guests in the air-conditioned three en-suite bedrooms.
Two of the bedrooms have two single beds, and the third room has a double bed. All the en-suite bathrooms feature a shower. This family cottage offers a fully functional kitchen with a microwave. There is limited satellite TV available.
Family Cottage FU6Z features:
 One en-suite bedroom (double bed)
 Two en-suite bedrooms (each with two single beds)
 Three bathrooms (each with WC and shower)
 Air conditioning
 DSTV (Limited Channels)
 Kitchen
 Accessible to the mobility challenged.
Punda Maria Rest Camp - Kruger National Park Specials
There are currently no specials for the Punda Maria Rest Camp - Kruger National Park.
Please check again soon.
Guest Reviews
Your review has been submitted
Thank you for submitting your review. Our team will check your review and be in touch should we have any questions.
An error was found. Please correct and submit again.
Share your personal review with us of your stay at this property.
---
GPS Co-Ordinates
Latitude: -22.691575
Longitude: 31.015355
Directions
Access via the Punda Maria Gate:

Take the N1 to Polokwane (Pietersburg).
At Makhado (Louis Trichard) link up with the R524 and follow this route for about 140km.
That will take you to the gate.
Allow between 5 to 6 hours for the trip to the gate.
Punda Maria Rest Camp is 10km away from the gate.
Allow about 20 minutes for the drive to the camp.


Louis Trichardt to Punda Maria Suggested routes
142 km, 2 hours 15 mins R524

1. Head southeast on Rissik St toward Krogh St 1,3 km
2. Turn left onto N1 750 m
3. Turn right at Songozwi St 2,1 km
4. Continue onto R524 116 km
5. Continue onto H13-1 16,9 km
6. Turn left onto Punda Maria Restcamp Rd 3,8 km
7. Slight left 500 m
8. Slight right 800 m
On site parking facilities are provided for guests.
Convert multiple currencies