Thanda Island Private Marine Reserve Reviews & Information
Use the drop down below to find out more information about Thanda Island Private Marine Reserve.
Situated within the Island Marine Reserve of Tanzania in East Africa, Thanda Island stretches over 4.5 hectares of tropical paradise. With its 1.1km in circumference and being 351m wide, this magnificent private island can be found 30km east of the mainland, opposite the Rufiji River Delta. Accessible by boat or helicopter, coral reefs surround this exclusive island retreat. The Villa Beach House features elegance and luxury in each of its five rooms which offer comfortable, king size beds. Perfect summer holidays in coastal white, green and blue colours, the air-conditioned suites lead directly to the sandy beach. Additional beds for a maximum of nine kids can be added to the bedrooms.
The villa provides a welcoming living area including an indoor aquarium, a Steinway grand piano, a wine collection, a cigar humidor, as well as the glass rim-flow swimming pool and wrap-around dining area. The romantic copper beach baths and the al fresco outdoor barbeque area, the cocktail bar and pizza oven are also beautiful features guests enjoy. WiFi Internet access and mobile phone reception are available here. A dedicated team looks after guests which include a private Executive Chef, a Hostess, a Housekeeper as well as a Boatman. Booked on an exclusive basis by only one group of guests & friends, Thanda Island is your Private Island, Coral Reef and Villa.
Facilities:
Large glass rim-flow swimming pool
Outdoor baths and showers
Copper Beach bathrooms (outdoors)
Private beach
Outdoor Barbeque and Cocktail Bar
Outdoor breakfast Boma
Pizza Oven
Fireplaces
Party pavilion tent
Cigar Humidor
Spa treatment beds
Aquarium with ocean fish
Steinway grand piano
Wireless Internet
Mobile phone network
Laundry.
Activities & Excursions
Fantastic activities are available for adults as well as children from exciting water sports such as deep-sea fishing, jet skiing and wakeboarding to fun kids games and relaxing health and spa treatments. Rejuvenating body massages, facials and other treatments are available according to guests requirements. The spa therapists come from nearby Mafia Island who use an excellent spa range of non-allergic products to pamper the body. Enjoying the absolute privacy on the island, guests may enjoy beauty and spa treatments either on the beach, in the suite, or other locations.
Water activities such as diving, swimming, sailing and fishing can be enjoyed all year round. The spectacular and friendly whale shark can be encountered in these waters from October to March either from a boat or by swimming alongside them. The sea turtles at Thanda lay their eggs on the island's beaches at night during May. They hatch in August when leaving to the ocean. Between August and September, whales can be seen in this part of the Indian Ocean making for exciting and remarkable experiences.
Activities:
Snorkelling
Sailing
Deep Sea Fishing
Jet skiing
Kayaking / stand-up pedal boarding
Wakeboarding/tubing/water skiing
Beach volleyball
Outdoor and indoor games for kids
Treadmill
Table tennis
Spa treatments.
Excursions:
Safaris to the Selous Reserve
Travel the romantic spice island of Zanzibar
Day trip to Dar es Salaam
Traverse Mafia Island.
Big Game Fishing
The island offers guests a fully equipped 28-foot reef runner cat, a perfect deep-sea boat for guests who wish to enjoy big game fishing nearby Mafia Island. Iconic species are caught on a 'catch and release' basis while other fish can be brought back to The Villa for the chef to prepare for lunch or dinner.
Dining
Dining on this private island retreat is an exclusive affair with a great selection of fresh and delicious meals and treats. Ahead of a visit, special dietary requests, as well as menus, are discussed to ensure personal preferences are met. Ranging from fish and seafood to vegetarian meals, game, beef and poultry combined with seasonal vegetables and tropical fruits, guests end of their meals with perfect desserts.
On offer as well are local dishes for guests who wish to experience the best of Tanzanian cuisine. Various dining options are available to meet the needs of guests. Breakfasts on the beach, romantic dinners and bonfires as well as picnics on one of the vast sandbanks in the ocean can all be arranged.
Below detailed information about the Thanda Island Private Marine Reserve is available.
For any queries regarding this hotel, you are welcome to contact us.
Available Rooms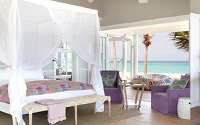 This exclusive Beach Villa off the coast from Tanzania features five suites each of which offers a king size beds. Additional beds can be placed into the bedrooms for smaller children who wish to share the rooms with parents. Facing the ocean and opening to a beautiful deck area, the rooms provide convenient amenities and features to ensure a most relaxing beach holiday.
Thanda Island Private Marine Reserve Specials
There are currently no specials for the Thanda Island Private Marine Reserve.
Please check again soon.
Guest Reviews
Your review has been submitted
Thank you for submitting your review. Our team will check your review and be in touch should we have any questions.
An error was found. Please correct and submit again.
Share your personal review with us of your stay at this property.
---
GPS Co-Ordinates
Latitude: -7.618833
Longitude: 39.682491
Directions
Thanda Island is located within the Shungi Mbili Island Marine Reserve in the District of the Mafia Island of Tanzania in East Africa. It is about 30 km away from the mainland and is accessed by boat or helicopter.
On site parking facilities are provided for guests.
Convert multiple currencies