Tswalu Kalahari Reserve Reviews & Information
Use the drop down below to find out more information about Tswalu Kalahari Reserve.
Tswalu Kalahari Reserve is set in the heart of the beautiful Northern Cape Province of South Africa about 300 kilometres north-west of Kimberley and about 270 km north-east of Upington. The city of Johannesburg in Gauteng lies approximately 560 km to the east and Cape Town 850 km to the south of the Tswalu Kalahari Reserve. As one of the most significant private nature reserves in Africa, it covers over two hundred and fifty thousand acres of pristine wilderness in the Northern Cape. The Oppenheimer family gives priority to preserving nature for future generations.
Tswalu at any time can host up to 34 visitors at this private retreat to traverse the scenic landscape, its abundant wildlife and the expanse of one of the country's last significant untouched territories. This Lodge is a member of the prestigious Relais & Chateaux hotel association which demands the highest standards of hospitality on an international level. Guests have the choice of two different types of accommodation options, either the Camp or Tarkuni. The camp features 6 Standard Suites and 3 Family Suites with indoor and outdoor showers. From the private sundecks, one can enjoy views of the waterhole which is frequented by wildlife. The Tarkuni Camps is an exclusive private home featuring five individual Suites accommodating a maximum of ten guests.
Quick facts:
Owned by Oppenheimer Trust
South Africa's largest private game reserve on over 1000 SQ km
Guests enjoy exceptional flexibility in personal, daily itinerary
Dedicated field guides and butlers
Malaria-free
Great wildlife sightings (desert black rhino, Kalahari lions, meerkats, cheetah, rare antelope, etc.)
Over 70 species of mammal and 230 species of birds
Emphasis is on privacy and exclusivity
Families are welcome, and kids are encouraged to participate fully in the safari experience
Sleep out deck for an ultimate experience.
The Camp
Six standard suites
Three family suites each accommodating four guests
Indoor & outdoor showers
Open fireplace
Private sun deck overlooking a waterhole
Separate dressing area
Broadband Wi-Fi access
Direct dial telephone.
The Main House features:
Outdoor heated pool
Spa & Gym
Wine cellar stocked with SA wines
Library
Gift Shop
Tarkuni Camp
Exclusive private home with five individual suites
Accommodates 1-10 guests
Dedicated chef
Tranquil poolside deck
Private game viewing vehicle
Outdoor walk-in showers
Two lounges with open fireplaces
Outdoor swimming pool.
The Malori Sleep Out Deck
Visitors have the unique opportunity to sleep in a luxury king-size bed in the middle of the game reserve on a raised deck. Listing to the calls of nocturnal animals, with nothing between them and the bright stars of the Kalahari night sky, this sleep-out deck is a truly memorable experience. Guests can choose to sleep under the thatch or further along the deck where it is entirely open.
The Malori Sleep Out Deck:
Deck with a thatched roof
King-size bed, Robes and slippers
Open air toilet and shower
Table and chairs
Couch.
Activities
During their stay Tswalu, guests may choose which events they would like to include in their daily itinerary. For game drive enthusiasts, the entire day can be spent in the bush with a delicious picnic. Thrilling bush hikes provide the opportunity to admire the smaller creatures and to track desert black rhino on foot. Riders of all abilities may enjoy horseback rides through the reserve accompanied by guides.
Photographers will find Tswalu a paradise where shots of wildlife with scenic panoramas can be combined. Walking tours to the ancient archaeological sites reveal rock carvings which were created by the Bushmen up to 380,000 years ago.
Game drives
Bush Walks
Horseback riding
Picnics
Sleep outdoors under the open skies
Swimming
Spa treatments
Fitness in the gym
Photographic opportunities
Walking tours to ancient archaeological sites.
Dining
The Green Kalahari region of South Africa provides some food never see anywhere else such as the rare venison and the Kalahari truffle. Sundowners in a beautiful setting is followed by sunsets and incredible dune dinners. The meals are complemented by the award-winning wine list from which guests can choose some of the most beautiful South African wines.
Wellness
The exclusive spa, which has received several awards in the past, features a welcome lounge, two therapy suites with en-suite sensation showers, as well as a private garden. On arrival, guests enjoy home-made smoothies, fruit and lemon flavoured water before their selected spa treatments which are performed by the individual or dual therapy suites.
The wellness centre reflects natural finishes including reed ceilings, wooden window frames and doors as well as dry-stone walls in the outdoor and indoor showers. A paradise of peace and tranquillity is created by the use of fresh and natural colours. The spa menu includes a selection of treatments and authentic signature experiences inspired by the natural wonders of the Green Kalahari.
Spa facilities:
Therapy suites with sensation showers
Private indigenous garden with a labyrinth
Outdoor patio
Outdoor treatment rooms
Yoga
Fully equipped gym.
Wildlife
South Africa's Kalahari is a semi-arid grassland which is characterised by its diversity of habitats and wide open savannahs. What makes this Lodge unique is the combination of the Kalahari dunes, savannahs with the combination of the Korannaberg Mountains.
The diversity of climate and habitat in this region of the country brought about an incredibly unique and diverse animal population. It is here where more than 240 bird species can be found and about 80 species of mammals. The open, rolling hills make for excellent game viewing opportunities. The retreats vehicles have exclusive access to the entire Tswalu Kalahari Reserve, which covers more than 1000 square kilometres.
Guests encounter on the exciting game drives and on horseback rides wildlife which includes buffalo, zebra, giraffe, white rhino and others. The Kalahari antelope species include Springbok, Gemsbok, Eland, Red Hartebeest to name but a few. One also stands a chance to admire the rare species such as Roan and Sable antelope, Tsessebe, Hartmann's mountain zebra and, of course, the desert black rhino. Larger predators in Tswalu reserve include the leopard, wild dogs and cheetahs. While the spotted hyena cannot be seen so frequently, the brown hyena is reasonably standard. The famous Kalahari lions are known for their sheer size and beautiful manes.
Location and Access
Tswalu is set in the heart of the beautiful Northern Cape Province of South Africa about 305 kilometres north-west of Kimberley and about 274 km north-east of Upington. The city of Johannesburg in Gauteng lies approximately 563 km to the east and Cape Town 855 km to the south of the Tswalu Kalahari Reserve. The retreats closest town is Kuruman, which is well known for the Kuruman Eye and the Moffat Mission. It is from here where the explorer and adventurer Dr Livingstone set off into deepest Africa. The Lodge is located close to the border of Botswana and lies within an easy driving distance of South Africa's Kgalagadi Transfrontier Park.
This exclusive retreat in the Northern Cape offers daily scheduled flights from Cape Town and Johannesburg. The aircraft is a Pilatus PC 12, which is pressurised providing a journey in luxury and comfort. In Johannesburg, guests depart from Fireblade Aviation, and in Cape Town, the Signature hangar is used. The flying time between Cape Town and Tswalu is about 2 hours with the Johannesburg flight taking about 1 hour 30 minutes. A minimum of 2 passengers is required for the flights to take place and passengers are kindly requested to be at the hangar one hour before the trip. Furthermore, it is also accessible by private or charter plane. The CAA licensed tar runway is 2,030 meters long and can accommodate most corporate jets. The runway lights are calibrated and approved by CAA for night landings also to take place.
Flight schedule (subject to change):
0750: DEPART CAPE TOWN (CTI - Signature hangar) TO TSWALU
0950: ARRIVE TSWALU
1020: DEPART TSWALU TO JOHANNESBURG (ORT)
1150: ARRIVE JOHANNESBURG (ORT - Fireblade Aviation) – This allows guests ample time to take connecting flights to Kruger / Sabi Sand / Madikwe. Fireblade provides a shuttle service for guests joining via FedAir or SA Airlink.
1300: DEPART JOHANNESBURG (ORT - Fireblade Aviation) TO TSWALU – Guests can now connect seamlessly from Kruger / Sabi Sand / Madikwe. Fireblade provides the collection service from both FedAir and ORT main terminal.
1430: ARRIVE TSWALU
1450: DEPART TSWALU TO CAPE TOWN (CTI)
1650: ARRIVE CAPE TOWN (CTI - Signature hangar).
Accolades and Awards
The Continent's Best Luxury Safari Spa, and The Continents Best Luxury Beauty Spa
Les Nouvelles Esthetiques Safari Spa
Relais & Chateaux Member
National Geographic Adventure Magazine's Top 50 Eco Lodges
Gold Achiever nominee in AA Travel Guides Awards
Conde Nast Traveler World Saver Award
First Choice Responsible Tourism; Best Conservation of Endangered Species
Winner of prestigious Relais & Chateaux Global Environmental Trophy
A previous winner of the Andrew Harper Grand Annual Award
Fair Trade in Tourism accredited.
Below detailed information about the Tswalu Kalahari Reserve is available.
For any queries regarding this hotel, you are welcome to contact us.
Available Rooms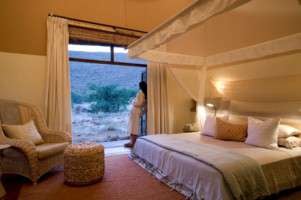 The Motse - Suite
# Rooms:

6
The main property at Tswalu Kalahari, the Motse, lies at the foot of the Korannaberg mountains. Motse means "village" and here just eight spacious "legal" (little house) can be found. These suites are built of local stone, red clay and Kalahari thatch and exude an elegant, barefoot luxury. Each suite features a spacious bedroom with an open fire, an en-suite bathroom with indoor and outdoor showers, a private sun deck, a large dressing and study area, wireless internet and a direct dial telephone.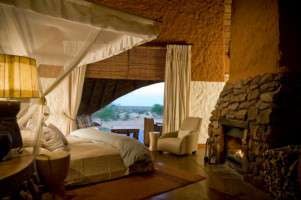 The Motse - Family Suite
# Rooms:

2
Two of the league found at Tswalu Kalahari have been designed with families in mind. Each of these family suites offers two separate bedroom suites with en-suite bathrooms, an expansive living room and a shady, private terrace.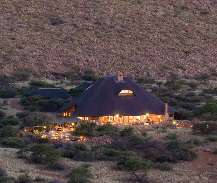 The five-suite villa at Tswalu Kalahari offers the option of exclusive use of a group of guests, or the accommodation of smaller individual groups. Two game viewing vehicles have been allocated to the Tarkuni Villa to keep the vehicle footprint minimal, and a maximum of two separate bookings will be accepted to ensure that each group has a dedicated vehicle, guide and tracker.

The villa lives up to the exceptional Tswalu safari experience where guests encounter understated elegance combined with luxury, relaxation and tranquillity. While guests will experience comfort and an incredible sense of space in the shared living areas, they are guaranteed exclusive privacy in their individual suites.

The expansive living spaces including a vast veranda with some seating and dining areas, a pool and tsala. Indoors there is an airy sitting room with a double-sided fireplace that also heats the dining room and adjacent cellar. On the mezzanine level is a well-stocked library and games room.
Upstairs, a stunning spa therapy suite offers guests the opportunity to indulge in the unique treatments of Tswalu's award-winning safari spa experience.

The new private suites include a spacious bedroom with king-size or twin beds, a luxurious bathroom with a bath and outdoor shower, and comfortable seating and study areas. Beds are dressed in exquisite cotton linen and romantic muslin nets. Sliding glass doors give guests vistas of the open savannah grasslands across to the Korannaberg Mountains.

The suites embrace the natural outdoor experience with organic-shaped flowing outdoor decks off the bedrooms and the addition of natural Kalahari stone walls to add privacy and seclusion to each deck space. The sunny decks lead onto private terraces with outdoor star beds which can be made up for guests who would like to experience the thrill of sleeping under the stars.

The colours and textures of the fabrics used throughout Tarkuni take their cue from the rich hues of the surrounding natural palette. Natural fibres like stonewashed linens, hemp and cotton, have been selected to harmonise with the colours of the environment - the grasses, dunes and wildlife. In each suite and living space, artworks from the private collection of the Oppenheimer family have added a highly personal aesthetic to the villa.
Tarkuni Villa facilities and features:
 exclusive private home with five individual suites
 accommodates 1-10 guests
 dedicated chef
 tranquil poolside deck
 private game viewing vehicle
 outdoor walk-in showers
 2 lounges with open fireplaces
 outdoor swimming pool.
Tswalu Kalahari Reserve Specials
The specials listed below will automatically be offered to you when proceeding through the booking process.
Guest Reviews
Your review has been submitted
Thank you for submitting your review. Our team will check your review and be in touch should we have any questions.
An error was found. Please correct and submit again.
Share your personal review with us of your stay at this property.
---
GPS Co-Ordinates
Latitude: -27.203737
Longitude: 22.468213
Directions
Distance from Johannesburg to Tswalu Kalahari is approximately 650 km. Estimated driving time is 7 hours.

Directions to Tswalu Kalahari from Johannesburg (Gauteng, South Africa):

1. Take M1 south, take Bloemfontein split and follow N12 and the signs to Kimberley.
2. Stay on the N12, proceed through Potchefstroom, Klerksdorp, and Wolmaransstad
3. At Wolmaransstad take R504 to Schweizer-Reneke, and then R34 to Vryburg
4. From Vryburg, continue the N14 to Kuruman
5. In Kuruman turn right at the first traffic light and follow the signs to Hotazel / Kgalagadi Transfrontier Park (R31)
6. In Kuruman, please contact the lodge to establish an estimated time of arrival
7. Approximately 56km from Kuruman you will pass a sign on the left to Kathu & Deben (R380). A short distance past this signage you will cross over a railway bridge. After the bridge, you will pass a sign on the right to Hotazel
8. Approximately 72km from Kuruman (before Blackrock) turn left onto the tar road R31 following signs to Kgalagadi Transfrontier Park and Van Zylsrus
9. After about 42km you will see a turn to your left - it is signposted Tswalu Kalahari Reserve. After setting, the tar road ends and you continue a gravel road
10. After 10km on the gravel road, you will see an airstrip on your left and just beyond, the Tswalu staff housing complex on your right. A kilometre further you will see Tswalu signage Tswalu Admin and Health Care Centre. You will be met at this gate by your guide who will escort you further
On site parking facilities are provided for guests.
Star Rating
5 Star
Memberships
Convert multiple currencies