Gugulesizwe Camp Reviews & Information
Use the drop down below to find out more information about Gugulesizwe Camp.
Below detailed information about the Gugulesizwe Camp is available.
For any queries regarding this hotel, you are welcome to contact us.
Activities, Sports & Leisure
Outdoor movies (weather dependent)
Guided Forest walk with palm tasting
Walking (guided on requested) and running trails
Swimming (at own risk, as there are no life guards).
Swimming and snorkelling at Lala Nek (during low tide)
Fishing and fly-fishing
Please note licenses/permits are required for both conventional fishing and fly-fishing to be obtained, prior to arrival and in person, from the nearest National Post Office.
Children's guided adventure walk
Children's local cuisine cooking experience
Bird watching
Bird species include several of typical coastal forest species including Green Twinspot, Green Malkoha, Grey Waxbill, Purple-crested and Livingstone's Turacos
Services
Check in and Check Out Times
Check in: 14:00
Check out: 10:00
Available Rooms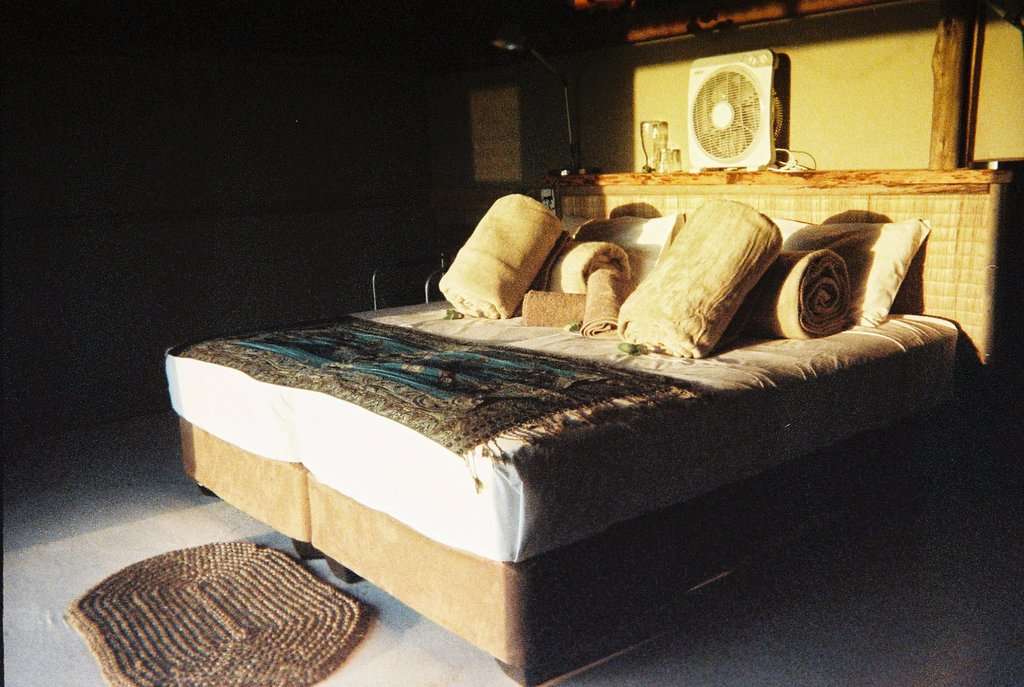 Spacious double or twin bedrooms with views of the vicinity.
GPS Co-Ordinates
Latitude: -27.222062
Longitude: 32.793381
Directions
A 4x4 car is needed to gain direct access to the camp, please speak to us regarding details.
Directions from R22 to Gugulesizwe:
Turn off the R22 onto the D1849 and reset your trip clock to 0.
The D1849 has signs saying "Coastal Forest Reserve".
After 100m on the D1849, there is a sign for Manzengwenya, Mabibi, Lala Nek and Rocktail.
Continue straight on this road for 18km.
At 4.3km on the D1849, Coastal Cashews will be on your right, continue straight.
At 18km there is another Manzengwenya, Rocktail, Lala Nek sign. Turn left here and go
straight over the crossroads. Continue straight on this road.
At 23.6 km you will see the first Gugulesizwe sign: a small pink sign on the left-hand side of
the road. Turn left here, being careful in the thick sand on this corner. Continue through the forest along this road.
At 27km: take the right fork.
At 30km: keep left at the second Y-junction and keep straight.
At 30.4km: go straight over the crossroads. At 30.6km, turn right at the bottom of the hill.
At 31km: take a slight left at the crossroads.
At 31.3km: turn right into Gugulesizwe.
On site parking facilities are provided for guests.