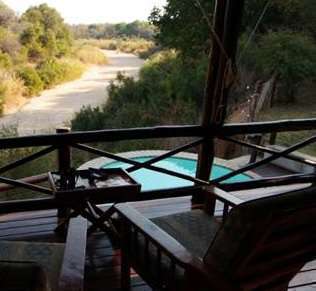 Shawu - Dzombo (Luxury)
# Rooms:

3
Chalet types:
Chalet Shawu: 4 Superior Suites
Chalet Shingwedzi: 1 Superior Suite and 2 Standard Suites
Chalet Kambaku: 2 Superior Suites and 1 Standard Suite.
The Kambaku Chalet and the Shingwedzi Chalet at the Indlovu River Lodge feature six suites offering a comfortable accommodation space for guests.
Chalet Kambaku
The lodge's Chalet Kambaku accommodates nine guests in three downstairs bedrooms and two upstairs rooms. The open-plan kitchen and dining/living area are well equipped including a fridge/freezer and a gas stove as well as a freshly ground coffee and milk and sugar.
Kambaku offers a large and enticing rock pool with an adjacent deck offering incredible views of the river below and the outlaying Drakensberg Mountains. The private pool and boma provide the perfect way to cool off on a hot summer's day while enjoying cooking under the stars.
Shingwedzi Chalet
The Shingwedzi Chalet is considered the lodge's most prized chalet and sleeps up to four guests. A very beautiful and well-equipped open-plan kitchen and lounge, with comfortable leather armchairs, ensure that visitors are content while a large and well-laid out master bedroom offers a small balcony; ideal for taking in the majestic views.
The private boma, plunge pool and veranda all add to the sublime experience and provide the perfect vantage points for the idyllic views. A well situated spotlight allows for the spotting of nocturnal animals.
Located towards the back of the lush gardens, the great Shingwedzi Garden Suite is at the top of a set of stairs. Offering a king-sized bed, facing sliding doors that open onto the balcony, the chalet offers visitors delightful early mornings filled with the soft sounds of the mourning doves and incredibly scenic views. The chalet is equipped with coffee and tea making facilities and is stocked with ground coffee, tea, sugar and milk.