Madikwe Safari Lodge Reviews & Information
Use the drop down below to find out more information about Madikwe Safari Lodge.
Below detailed information about the Madikwe Safari Lodge is available.
For any queries regarding this hotel, you are welcome to contact us.
Restaurants
Dining a the Madikwe Safari Lodge
At the Madikwe Safari Lodge, all meals are prepared from as much locally grown produce as possible. Dining at the Kopano and Dithaba Lodges are limited to eight guests, allowing for intimate and romantic dinners. Dinner at the Lelapa Lodge is more for the larger groups and offered in the boma dining area or on the wooden decks overlooking the open plains and wilderness.

As Madikwe is also a family friendly destination, children, and special dietary requirements are accommodated as much as possible. And don't forget about the marshmallows on the fire later in the evenings.
Spa
Spa Facilities
At the Madikwe Safari Lodge, reflexology, full body massages, and Indian head & scalp massages are some of the delightful messages, which guests can choose from during their stay.
These treatments are offered in the comfort of the private suite, allowing a tranquil and relaxing experience.

Activities, Sports & Leisure
Game Viewing
The Madikwe Safari Lodge is one of South Africa's most sought after safari destinations, due to its incredible viewing. At Madikwe, they promise a bush experience never to forget as the game viewing is all about exclusivity. Game drives limited to 3 vehicles to ensure quietness around the animals, guests are guaranteed a sighting of either white rhino, elephant, spotted hyena, lion, giraffe, zebra, impala, wildebeest, and warthog, together with the impressive range of other amazing animals.
Bush Drives
The Bush drives are led by highly experienced and knowledgeable rangers. In open safari vehicles, this is what the Madikwe Reserve is best known for.
Swimming
Refreshing yourself after a long day and enjoy the beautiful views while soaking in the cool water in the privacy of your private luxurious suite.
Bird Watching
At Madikwe, a collection of over 340 species of migrating and resident bird species are home, making the avid bird lovers experience an absolute treat.
Bush Walks
The highly knowledgeable and experienced rangers take guests on the experience of a lifetime. Early morning and early evening walks always guarantee a viewing of the wide range of animals and expecially the 'Big Five'.
Spa Treatments
At the Madikwe Safari Lodge there is a selection of several massages to choose from, which are offered in the privacy of the own suite. From Indian Head Massages, Reflexology, and Swedish full-body massages, there is something for everyone.
Facilities
Day Itinerary
The Madikwe Safari Lodge in South Africa is well known for the best game drives in South Africa.
With 66 large mammals species, consisting of the Big 5 and wide variety of animal viewings, their daily itinerary is kept strict to times, to ensure that these experiences do not fail to meet expectations.
In the Summer (Sept to April)
05h00 Wake Up Call
05h30 Tea/Coffee, Game Drive Departs
09h00 Return from Game Drive, Breakfast Leisure activities
16h00 High Tea
16h30 Departure for Game Drive
19h30 Return from Game Drive, Dinner.
In the Winter (May to August)
06h30 Wake up Call
07h00 Tea/Coffee, Game Drive Departs
09h30 Return from Game Drive, Breakfast Leisure activities
15h00 High Tea
15h30 Departure for Game Drive
18h30 Return from Game Drive, Dinner.
Services
Check in and Check Out Times
Check in: -1
Check out: -1
Business Services
General Services
24 - hour reception service
Butler service
Concierge services
Health & Fitness Centre
Housekeeping service
Individual climate controlled room
Kid's entertainment
Laundry services
Room service
Safari drives
Wake-up call
Walking safaris
Malaria Status and Animals
The Madikwe Safari Lodge is one of South Africa's largest and malaria-free sanctuaries. The animals which can be seen at the Madikwe Safari Lodge range from Africa's 'Big Five', eland, springbok, ostrich, oryx, spotted and brown hyena, wild dog and cheetah.

350 resident and migrating bird species, this reserve offers animal and wildlife lovers, one of the best safari experiences in Southern Africa.
Children Activities
With many hotels and travel destinations offering "children facilities" that do not measure up to what parents require, Madikwe Safari Lodge in South Africa decided to take a step in the right direction and came up with a great idea and developed the Eco-House. At the Eco-House, children are offered an educational learning based environment, which comprises of indoor and outdoor activities.

The centre encompasses activities such as painting, drawing, experiences with the textures and smells of live specimens, as well as making location-specific models and arts. Parents may engage in the activities with their children, or they may steal a few hours away, to enjoy some time out, knowing their children are cared for and safe, doing activities in a valuable educational environment.

Children activities:

family safari drives
bush orientation
Bug CSI: identifying different bugs
dung tracking
track pack with plaster of Paris to make moulds of animal tracks
painting/drawing/colouring in
washing the safari vehicle
baking in the kitchen
making pizzas
soccer in the boma
star gazing
DVD with homemade popcorn for when the weather is bad.

Available Rooms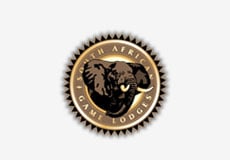 Lelapa Family Suite and Lelapa Suite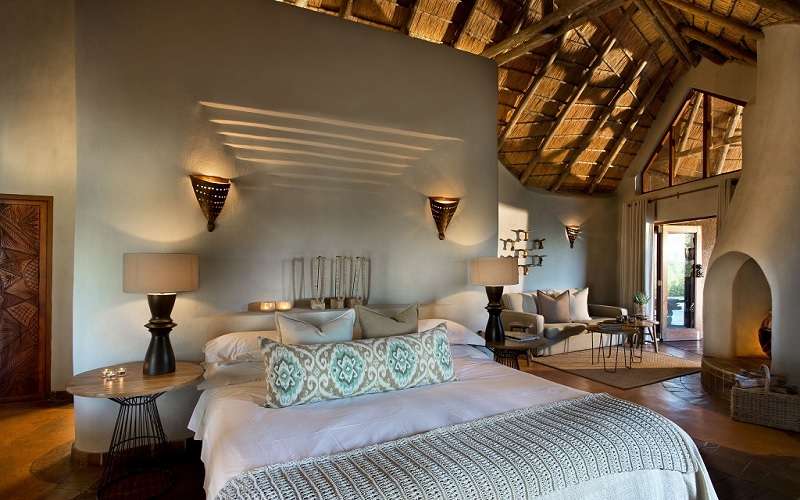 The Lelapa Lodge at the Madikwe Safari Lodge welcomes families with children of all ages. This child friendly lodge exudes a friendly spirit and comfort of being at a home.

The exclusive Suites at the Madikwe Safari Lodge offers guests their private plunge pool overlooking the wilderness, and while relaxing in the pool guests can often see animals walking within very close range. Indoor and outdoor showers, ample cupboards and space, relaxing interior décor, three large interlinked wooden decks, with the middle covered with a thatch roof and hosts a beautiful fireplace, these suites are fit for kings.

The triple suites offer a sleeper couch and double beds convertible to twin beds. En suite bathrooms, separate water closet, amenities, air conditioning, ceiling fans, ample space, these suites offer sheer sophistication, style, and luxury in a beautiful safari setting.
Lelapa Suite features:
air conditioning
private plunge pool
size: 100 m2/1080 ft2
fireplace
room fan
outdoor shower
indoor shower
in room safe
mini bar
telephone
hairdryer.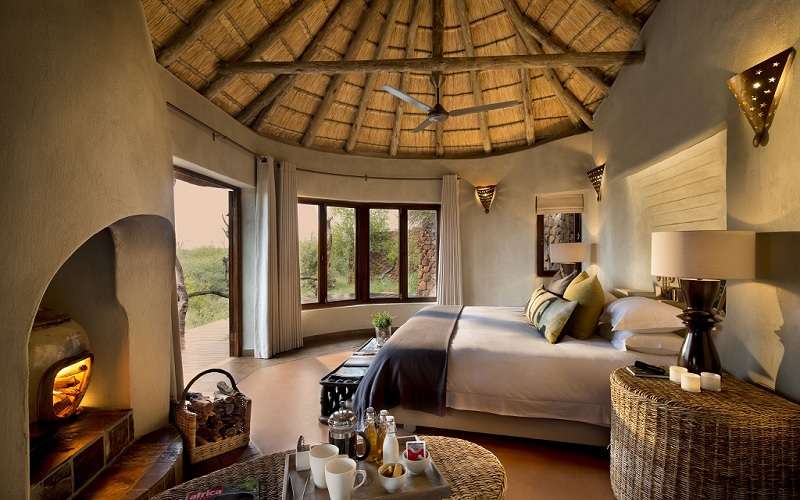 Madikwe's Kopano Lodge, which means 'small gathering,' consists of only four luxurious suites offering a beautiful common area where a private experience can be enjoyed.
Kopano Suite features:
the size of the suite: 100 m2/1080 ft2
private plunge pool
air conditioning
fireplace
room fan
in room safe
personal bar
telephone
hairdryer
indoor and outdoor showers
maximum of 8 guests at this lodge
no children can be accommodated here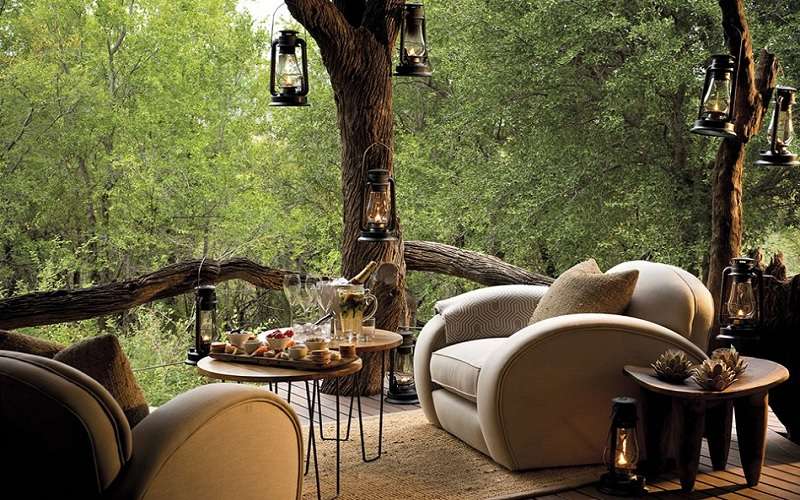 From the Dithaba Lodge, views which reach out across the vast open plains can be admired. Dithaba, which can be translated as 'mountain', is located slightly higher up on the mountain and offers incredible vistas. Only four suites are available at the Dithaba Lodge making it an ideal safari accommodation option for a family or group of friends booking it exclusively.
Dithaba Suite features:
the size of the suite: 110 m2/1180 ft2
air conditioning
private plunge pool
fireplace
room fan
indoor and outdoor showers
safe
personal bar
hairdryer
telephone
children can be accommodated if booked exclusively.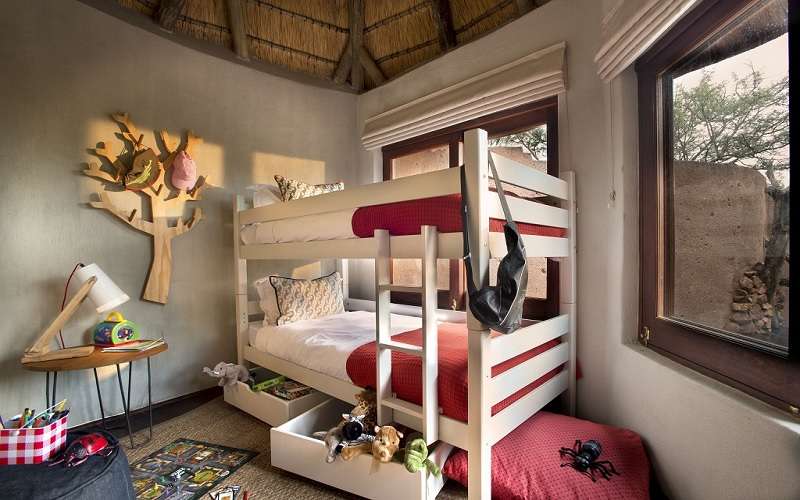 Lelapa Suite (Family Suite 2 adults + 2 children)
GPS Co-Ordinates
Latitude: -24.723045
Longitude: 26.387718
Directions
Recommended directions from the OR Tambo International Airport in Johannesburg to the Madikwe Safari Lodge (4h30):

This route is recommended if you do not mind traveling 50 kilometers/30 miles on a gravel road, or if you are coming from or going to Sun City. This is a shorter route in the distance, does not require a 4x4 vehicle and is more scenic.

- Depart OR Tambo Johannesburg Airport following the airport exit signs (R21 & R24)
- Approximately 200m after that the road forks. Take the right fork towards R21 N Pretoria/R24 Johannesburg
- The road immediately turns sharply right. Stay in the left lane immediately and follow the signs to R21 N Pretoria while exiting the airport
- After exiting the airport, get into the left lane and follow the R21 N Kempton Park/Pretoria signs
- After 300m, take the left off ramp following the R 21 N Kempton Park/Pretoria signs
- Once on the R21 N drive for 36.3 km
- After 34km, you will see signs indicating exit 134 (N1 Noord, Pretoria/Polokwane/Johannesburg)
- Take exit 134
- Immediately after that the road forks. Take the right fork towards N1 North Polokwane
- Travel for 22.5km along the N1
- After 20km look for exit 156 to the left (N4 Rustenburg). Take exit 156 and get onto N4 to Rustenburg.
- The N4 is a toll road, so please be aware of toll taxes
- Once on the N4, continue for 62 km
- Turn right at the top of the off-ramp towards Sun City and continue straight to Sun City (approximately 73 km /45 miles from this off-ramp). It is advisable to fill up with fuel at the Sun Village, just after the Sun City entrance on the right
- After passing Sun City and the Sun Village on the right, continue straight until you reach a four-way junction
- Turn right to DERDEPOORT, follow the road for approximately eight km/5 miles
- Turn left at the sign for BAPONG. Continue straight along this road. Please ignore all signs for Madikwe Hospital or Village etc
- After passing through MABESKRAAL (approximately 45 km/28 miles), you will come to a four-way stop where you must turn right to DERDEPOORT. This newly-tarred/ sealed road continues for about 25 km/16 miles and has very few signs. It then becomes gravel/dirt, with the Dwarsberg Liquor Store on your left, after which you continue for 58 km/36 miles
- Continue straight along the gravel road towards MOLATEDI village (do not take the next Derdepoort road to the right, keep straight)
- Here you will be welcomed by the friendly gate staff, who will confirm your reservation and direct you to the correct Lodge at Madikwe Safari Lodge
- Proceed into the reserve on the main road following the signs to the DERDEPOORT gate/MADIKWE SAFARI LODGE, approximately 33 km/20 miles and it should take you approximately 45 minutes
- Please note the reserve speed limit is 40 km/h or 25 miles/h.
On site parking facilities are provided for guests.
Star Rating
5 Star
Awards
The Madikwe Safari Lodge:
Listed on the Condé Nast Traveller Hot List
Listed on the Condé Nast Traveler Gold List of the World's Best Places to Stay, in the Africa and Middle East category, Madikwe Safari Lodge was 19th (89.78)
Condé Nast Traveler (US) magazine's Readers' Choice, Awards Madikwe Safari Lodge, was voted the 75th best hotel in the world.
Condé Nast Traveler USA featured the prestigious Gold List of the World's Best Places to Stay; Madikwe Safari Lodge 25th (88.76)
Condé Nast Hot List featured Madikwe Safari Lodge in both the US and UK Condé Nast Traveller's Hot List of the World's Coolest New Properties.
Hotel Group(s)