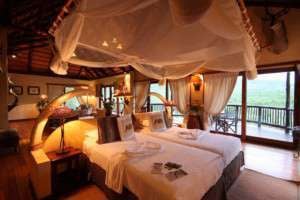 Mkuze Falls Game Lodge consists of eight thatched chalets, a safari suite and a central complex, which are on raised wooden platforms and have spacious verandas.
These private balconies provide stunning views of the falls or the perennial Mkuze River to the hills beyond. The centrally located facilities include a pleasant dining area, a comfortable lounge, an indoor pub, a shady terrace and a swimming pool.
The large lounge leads onto a spacious viewing deck, which is built on the sloping riverbank, providing panoramic views of the winding Mkuze River and the wild, untamed landscape beyond. In the heat of the day, you can relax under the shady palm trees and take a refreshing swim in the sparkling pool. In the evenings, enjoy some lively entertainment provided by the traditional Zulu dancers. Private plunge pools and an outside shower are complemented by the luxury of the air-conditioned bedroom.