One&Only Nyungwe House Reviews & Information
Use the drop down below to find out more information about One&Only Nyungwe House.
Below detailed information about the One&Only Nyungwe House is available.
For any queries regarding this hotel, you are welcome to contact us.
Activities, Sports & Leisure
Swimming
Guests may enjoy a refreshing swim in the lodge's magnificent outdoor swimming pool which overlooks the tea plantation and the forest.
Wildlife Trekking Tours
Unforgettable wildlife trekking tours are available where guests enjoy the unique opportunity to encounter various species of monkies in their natural habitat.
Wildlife trekking tours:
Chimpanzee trekking
Black and White Colobus monkey trekking
Grey cheeked Mangabey Trekking
Blue Monkey and Golden Monkey Trekking
Kamiranzovu Swamp walk
Kamiranzovu Waterfall walk
Various guided Walking trails from 1 hours to 7 hours.
Walks and visits
A visit to the operational tea factory is very interesting where guests can get familiar with the tea processing system. With its great varierty of birds, special bird watching walks are available. A walk to the magnificent Isumo waterfall is not to be missed.
Walks and visits:
Bird watching walk
Cultural area walk with lodge guide
walk to the Isumo waterfall
visit to the tea factory.
Spa treatments
Calming health and beauty treatments are available at the mountain retreat's relaxation spa.
Services
Check in and Check Out Times
Check in: 15:00
Check out: 11:00
Business Services
General Services
Concierge services
Housekeeping service
Individual climate controlled room
Internet connection
Laundry services
Room service
Tours & Transfers on Request
Walking safaris
Wellness & Beauty treatments
Available Rooms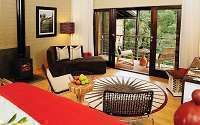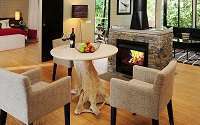 GPS Co-Ordinates
Latitude: -2.446969
Longitude: 29.104255
On site parking facilities are provided for guests.
Star Rating
5 Star
Hotel Group(s)