Lion Sands Kruger National Park Reviews & Information
Use the drop down below to find out more information about Lion Sands Kruger National Park.
Below detailed information about the Lion Sands Kruger National Park is available.
For any queries regarding this hotel, you are welcome to contact us.
Restaurants
Dining at Tinga Kruger National Park
Guests are invited to enjoy a delicious meal, or a refreshing drink and snack on the large partly shaded river decks overlooking the Sabie river or relax in the boma. The boma is a favorite outdoor eating and the socializing area where guests can enjoy gourmet meals to the sounds of the African wild.
A well-stocked wine cellar offers a selection of local and international wines, as well as sparkling wine and champagne, to compliment the spectacular meals.
Spa
Spa Facilities
The spa at the Tinga Kruger National Park offers a unique Africology brand, which is a South African product, made from pure natural ingredients.
Spa treatments include:
Deep tissue massages
Aromatherapy massages
African scalp massages
Foot massages
Cleansing and exfoliating
Facials
Manicures.
Activities, Sports & Leisure
Game Drives or Walking Safaris
The Tinga Private Game Reserve is home to the highest densities of wildlife per square hectare and the wildlife does not feel threatened by visitors, resulting in regular sightings.
The reserve is completely untouched and is home to a variety of wildlife. Tinga's professional guides and trackers, who are expertly trained, not only provide guests with a wealth of information but are also incredible hosts. The safaris can either be done on foot or in open Landrovers and take place either in the morning or late afternoon moving into the early evening.
Swimming
Guests can either relax in the central swimming pools at the Tinga Legends Lodge or in their private plunge pools offered at the rooms at both lodges of the Tinga Kruger National Park, South Africa.
Spa treatments
The Spa at the Tinga Kruger National Park offers unique South African beauty products which are made from pure natural ingredients. It is here where guests are welcome to relax in tranquility during their safari getaway at the Tinga Kruger National Park.
Spa treatments include:
Deep tissue massages
Aromatherapy massages
African scalp massages
Foot massages
Cleansing and exfoliating
Facials
Manicures.
Conferences & Events
Conferences at the Tinga Legends Lodge
The Legends Lodge at Tinga Kruger National Park, South Africa, offers a dedicated conference venue which can accommodate up to 12 business delegates.
Facilities
Baby Facility
Babysitting is at an additional cost for guests staying at Tinga Legends Lodge in the Kruger National Park of South Africa.
Services
Check in and Check Out Times
Check in: 14:00
Check out: 10:00
General Services
Airport transfers
Babysitting
Housekeeping service
Internet connection
Kid's entertainment
Laundry services
Safari drives
Walking safaris
Children Policy
50% of the adult rate applies for kids between six and fifteen years of age. Children under 16 years old are not allowed on safari walks.
Children Activities
Tinga Legends Lodge encourages parents to visit with their kids and is more than willing to accommodate dietary requirements with healthy, tasty food and snacks. A whole array of activities is available for families to enjoy while managers oversee the activities, allowing parents some alone time to relax.

Activities on offer include:

Safari drives are available to all children who are six years and older
Survival Spoor Identification- A ranger and tracker take children into the bush, around water holes & dry riverbeds, teaching the kids how to identify and age animal prints using basic techniques
Testing Tracking - Children get a chance to track an animal, and for obvious safety reasons, the Big Five are not followed
Orientation - Children are shown how to use a compass, a map, and natural direction indicators to get themselves back to the lodge
Basic Bush Survival - Children learn how to find food, medicine & most importantly water. Each section is broken down into sessions allowing the children to make the most of this educational experience
Crafty Arts & Crafts - The children are shown rope-making techniques using tree bark and how to make a head-cover that doubles as protective camouflage
Astronomy - A ranger educates the kids on stars and how to identify certain constellations
Field Ranger Training - Not for the faint-hearted, children will be dropped off at the specially designated place and will be encouraged to find their way back to their lodge. A designated field ranger will be with them every step of the way
Treasure Hunt - Treasure hunts take place around the lodge
Bug Hunting - This activity involves locating bugs in and around the lodge or while on drives and identifying them
Cookie Baking and Cupcake decorating- children can decorate their chef hats and prepare cookies and cakes of all different shapes and sizes for their afternoon tea
Pizza making - Children can develop the dough, select and make their toppings and wait for the kitchen to produce their prepared meal
Painting - Children can paint and create gifts for their families and friends back home
Kids Talk - A Field Ranger will chat to children about straightforward and basic methods of survival
Kids can make necklaces and bracelets
A tournament can be put together
Movie Magic - A selection of DVDs are available and movie nights can be arranged while popcorn is a part of the experience
Social Responsibility
The Tinga Lodge in the Kruger National Park, South Africa, employs most of its staff from the surrounding local communities. Unemployment is high in these rural communities due to little investment in skills development.

Tinga Kruger National Park employs more than a hundred locals whom in turn have approximately ten to fifteen dependents. Various services including laundry, pest control and firewood procurement are outsourced to small local business.

Lion Sands Tinga offers its employees training in the hospitality field which is nationally accredited. Guests are also welcome to give contributions to help the local communities.
Available Rooms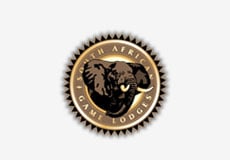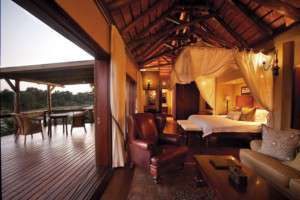 Breathtaking accommodation awaits guests at the Tinga Narina Lodge and the Tinga Legends Lodge, which nestle in the game rich Tinga Private Game Reserve of South Africa. Each suite at the Tinga and Nerina Lodge boasts a comfortable lounge, luxurious bedroom and beautifully appointed en-suite bathroom.
Guests may outside of the opulence of their luxurious suite and appreciate Africa's natural beauty from the privacy of their own game viewing deck with private plunge pool. Each suite at the Tinga Game Reserve has been strategically positioned to ensure the best, unspoilt view of the Sabie River and the surrounding African bush.
Tinga and Nerina Suite features include:
 Private lounge
 Large en-suite bathroom with bath, his-and-hers vanity & a double shower
 Private outdoor shower (at Legend's the indoor one can shower can be opened up)
 Extra length king size beds
 Overhead fans
 Under floor heating
 Writing desk
 Mini bar
 Direct dial telephones
 Large electronic safe
 Hairdryer.
The Tinyeleti Treehouse is set overlooking the Sabie River and the bushveld. Tinyeleti means many stars and offers an open-air luxury experience with no electricity but all the comfort of a five-star lodge. You can also choose to enjoy meals, cocktails and spa treatments on the treehouse deck.
Reservations for the Treehouses are essential. The use of the Treehouses are weather-dependant, and guests keep their room/suite at the respective lodge for the night they stay in the Treehouse. There is an additional surcharge/supplement to stay in the Treehouse.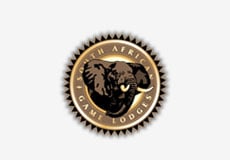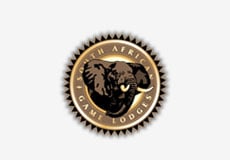 Tinga 2 Bedroom Family Suite
GPS Co-Ordinates
Latitude: -24.971623
Longitude: 31.583302
Directions
Recommended Directions to the Tinga Kruger National Park:

Take the N12/N4 highway from the Gauteng region towards Emalahleni (formerly known as Witbank) / Middleburg and further on to Mbombela (previously known as Nelspruit)
Upon arrival into Mbombela, follow the R40 from Mbombela through to White River and on to Hazyview
At the T-junction between Kiepersol and Hazyview, turn left onto the R538, which will take you into the town of Hazyview.
At the 2nd traffic lights with a shopping centre on the right-hand side, turn right onto the R536 towards Paul Kruger Gate (Kruger National Park).
Enter Kruger National Park at Paul Kruger Gate, announcing yourselves at guests of Tinga & follow the sign to either Tinga NARINA or Tinga LEGENDS Lodge.

Directions to Tinga NARINA, continue the road to Skukuza Restcamp; turn left on the first gravel road on your left which is approximately 8 kms/5 miles from Kruger main gate, the sign post will read Tinga Narina 4km; continue on this road for 2km and turn left and the first junction, the signpost will read Tinga Narina 2 Km; continue on the gravel road until you reach Tinga Narina Lodge reception.

Directions to Tinga LEGENDS, stay the road to Skukuza Restcamp; at the first four-way stop, Skukuza Restcamp will be to your left, and it will be signposted to go straight to Tinga LEGENDS 7 km; carry on straight until you reach a T- the junction where it is signposted Tinga Legends 4km. At the T- junction turn left and then at the next four-way stop you turn right, towards the river and go over the low-level bridge. About 500 meters after the bridge you will need to turn left onto a gravel road and then once on the gravel road you drive straight until you see the signpost for Tinga LEGENDS reception.

WELCOME, well done and ahead lies a great few days on safari, so time to relax and we will take care of everything from here on in!

Please contact the Lodge when you arrive in Hazyview so we know you are close by and even better if you could phone us when you leave so we know what time to expect you that will allow us to keep a check and make sure you get in safely.
On site parking facilities are provided for guests.
Star Rating
5 Star
Hotel Group(s)