Introducing Giraffe Manor's New and Improved Rooms
Introducing Giraffe Manor's

Giraffe Manor's doors have reopened for the season! Despite being closed for two months, we have been incredibly busy and have lots of exciting developments to reveal. Three of the main manor bedrooms have undergone significant renovations. Lynn and Marlon are now charming superior rooms and the Karen Blixen Suite now has two large en-suite bedrooms with an adjoining lounge area and a large balcony.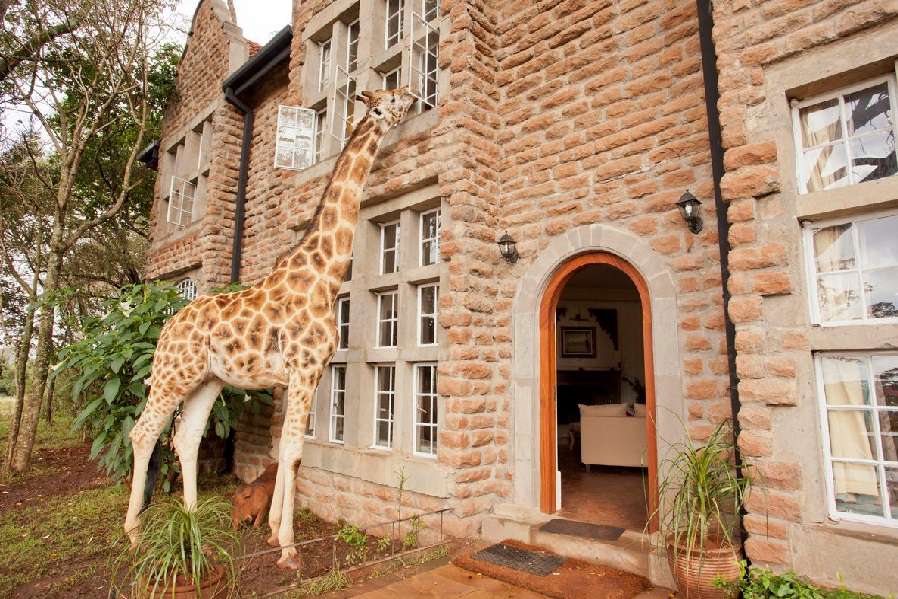 Our Giraffe Manor chefs have also been given a little treat. A brand new, purpose-built stainless-steel kitchen has been installed with every modern appliance that a discerning chef might desire! We look forward to offering our guests even more delectable culinary creations over the coming months.
We cannot wait for our visitors to enjoy the fabulous renovations. If you have booked one of these rooms and would like more information about the changes, then please see details below or on The Safari Collection's website. We will retain the current 2019 rates for all new bookings in these three rooms until 16th December 2019.

Lynn, Marlon & The Karen Blixen Suite
Karen Blixen
Superior Family Suite
This 113 m² suite is located on the top floor of the main manor house. Its balcony enjoys south-facing views and provides guests with the opportunity to feed the giraffes. The suite has two en-suite bedrooms with bathtub, shower and twin sinks. The master bedroom has a king-sized bed, whilst the second bedroom has two single beds and a small daybed which can accommodate a child. The room has a lounge with a fireplace.

Marlon
Superior Room
This 43 m² room is located on the top floor of the main manor house. Originally two smaller rooms (Lynn and Marlon), the new Marlon has twin beds that can be converted into a large double bed. There is a lounge area with a sofa that can convert into a bed for a child. An east-facing balcony offers guests the opportunity to feed giraffe in the morning. The master bathroom has a shower and twin sinks.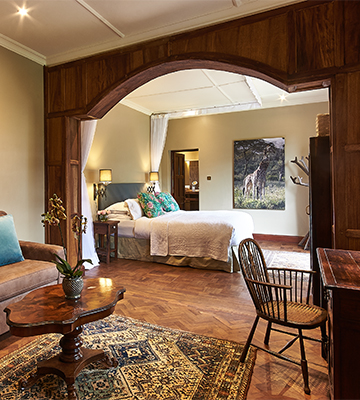 Lynn
Superior Room
Lynn is located on the ground floor of the main manor. Originally the old kitchen, space was cleverly converted into a beautiful 47 m² room with en-suite bathroom including a bathtub, shower and twin sinks. The bed can convert between a double or two singles and the room can be accessed via a staircase or from the ground level. There is an outdoor seating area where guests can enjoy feeding the giraffes.
SEE ROOM