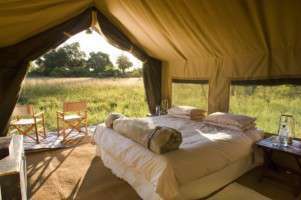 Located in secluded campsites in the magnficent wilderness of the Chobe National Park in Botswana, five ensuite safari tents provide comfort, closeness to nature and a sense of adventure.
Hidden in the shade of a dense forest deep in the untouched African bush, a maximum of ten guests may experience the complete isolation of Chobe Under Canvas. The unique night time noises filter through the canvas walls of the tents.
Camping with en suite bathrooms and al fresco hot bucket showers is an unforgettable experience at these fully staffed mobile tents in the pristine wilderness of the Chobe National Park.