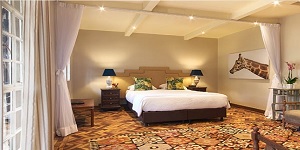 Lynn (Superior)
# Rooms:

3
Lynn's room is named after a giraffe who was, for many years, the guardian of our herd of Rothschild's giraffes. Born in 1996, she was blessed with five calves whilst here at the sanctuary. We loved her kind, solid and reliable nature. Lynn-the-giraffe, who sadly died in 2015, was named after Lynn Sherr, an award-winning news correspondent for the ABC news programme 20/20. An avid admirer of giraffes, she has often stayed at the Manor. Sherr's book, 'Tall Blondes', illustrates her love and knowledge of the animals and, in our view, is the definitive work on giraffe.
The room of the same name is located on the ground floor of the main manor and, though one finds it hard to imagine now, it was once the original manor house kitchen. The space was cleverly converted into a beautiful 47 square-metre room in 2019 with a decadent en-suite bathroom including bathtub, shower and twin sinks. The bed can convert between a double or two singles and the room can be accessed via the old service staircase or from the ground level for guests who may have mobility issues. There is a small veranda with access to a larger, covered outdoor seating area where guests can enjoy feeding the giraffes who amble past.
Located in the Main Manor
Footprint of 47m²
King-size bed or twin beds (not possible to add an extra bed)
Private walk-out terrace with seating area and access to feeding giraffes
En-suite bathroom with shower and bath
Free Wi-Fi
Coffee/Tea machine
Hair dryer
In-room safe
Mosquito net
Handmade Kenyan toiletries
Dressing gowns.