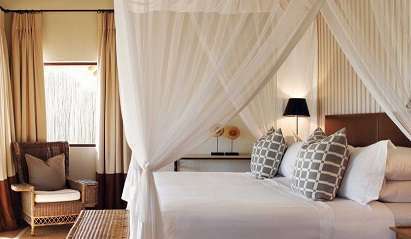 Pioneers Camp (Suites)
# Rooms:

3
Pioneer Camp reflects the history of the reserve as it was here that over eighty years ago the Varty and Taylor fathers arrived after four days of hard travel they erected their tents. They awoke in a splendid panorama of breathtaking beauty.
Unique, peaceful and remote, this wild forest is still the experience at Pioneer Camp. A 510-year-old riverine forest throws dappled light on the three private cottages and provides a climactic backdrop for the camp's past.
This camp can also be converted into a private bush home for family groups of 6 to 14 people through linking glass sky walkways into interconnected family units.
The Old English indulgence reflects our heritage with an African twist. The influences are evident in the elegant cream interiors, silver teapots and Portmeirion crockery. Guest Cottages are themed with historical memorabilia, telling a story of a bygone era and furnishing an environment of free indulgence.